This month's newsletter explores staying true to your organization's values amidst today's divisive social and political landscape. Maintaining strong relationships with both internal and external stakeholders is critical during complex communications challenges in your company. Whether it's figuring out how to better communicate your impactful DEI initiatives or handling backlash to ESG and Pride Month campaigns, one thing is clear – the people who matter most to your brand are paying attention. While there's no magic formula for addressing these ever-evolving challenges, strategic, value-based, and well-researched efforts can bolster your brand and ensure adaptability for whatever lies ahead.
The Goods is a newsletter for social impact communicators that helps you keep track of the latest updates, trends, industry best practices, and much more. This content is compiled and curated monthly by Jade Floyd, and our newest writers, Alvin Jordan and Victoria Dellacava at Global Strategy Group.
---

Quick Hit: Disney and DeSantis are in a fierce moral tug-of-war for the title of America's chief values enforcer. But amidst the drama, savvy marketers can uncover valuable lessons about a brand's purpose and the undeniable power of actions over words. 
Your Takeaway: Brands that prioritize consistency and commit to their values always come out on top. But those fair-weather companies – the ones jumping on the bandwagon when it's convenient or profitable (like selling rainbow merch during Pride Month) – are doing more harm than good to their brand in the long run. (PR News)
---
Quick Hit: Investing in PR helps boost your startup's credibility, build stakeholder rapport, craft a compelling brand story, as well as mitigate and manage potential crises down the line.
Your Takeaway: Entrepreneurs should consider investing in a PR team to accelerate their growth which can help amplify your message, product, or mission, and ensure you're reaching the right people. This means more time to focus on what you do best. (Entrepreneur)
---
Quick Hit: AI's looming presence may raise PR pros' eyebrows, but, at the end of the day, employers still need qualified, creative people who can execute on what AI can't.
Your Takeaway: AI's impact on the PR industry remains uncertain, but it's a potent tool we can wield, much like how social media revolutionized news sharing and consumption. Stay ahead of the curve, embrace the disruption, and reap the rewards. (Forbes)

Quick Hit: Even though ESG investing is under partisan fire, audiences still crave straightforward ESG reporting.  
Your Takeaway: When communicating about ESG investments, be crystal clear about the real gains and savings they deliver. The political climate demands it. Don't settle for empty green gestures—highlight the tangible benefits and cost savings. (Ragan)

Quick Hit: "Belonging" takes center stage in the ever-evolving world of corporate DEI programs. The idea of adding "B" to DEI is intended to help better meet people where they are and encouraging further dialogue around these issues. But critics argue it's another way to make these programs more palatable.
Your Takeaway: It's nearly impossible to be unbiased when looking at your own company's DEI progress. Investing in a DEI consultant to find the model that best works for your company can help your work environment thrive and your company continue to attract top talent from diverse backgrounds in the future. (New York Times)
---
Quick Hit: Effectively communicating authentic DE&I efforts can help positively impact internal company culture and external public perception.
Your Takeaway: DEI efforts are no longer a "nice to have", they're critical to building your company's culture and strengthening your overall business. These efforts need to start with your organization's leadership through compelling communications and actions to match. (Ragan)

ICYMI: GSG's 2023 Pride Month Report
In honor of Pride Month, our researchers delved into voters' sentiments around the massive attacks against the LGBTQ+ community, with a particular focus on transgender individuals. The data shows:
Voters oppose these inflammatory attempts to discriminate. Majorities oppose many of the anti-trans laws being elevated by Republicans right now, with a full 60% opposing bans on gender-affirming care. And majorities support passing laws to ban discrimination based on gender identity.
Democrats have an opportunity to change the narrative. Democrats are more trusted than Republicans on LGBTQ issues and to care for our children. Further, a generic Democrat actually grows their lead over a generic Republican when the Democrat opposes these laws, and the Republican supports them.
Voters want to see politicians addressing inflation, not attacking trans people. Just one percent of voters say our elected officials should focus on trans people as a top issue, with the vast majority of voters – even many Republicans – saying Republican politicians have gone too far. 
---
GSG Clients in the News: UnidosUS and Cerberus
We're proud to be working with exciting organizations that are on the leading edge in their respective fields, and wanted to highlight their accomplishments for you.
Earlier this month, UnidosUS, the country's largest Latino civil rights and advocacy organization, launched HOME (Home Ownership Means Equity), a new national initiative to create 4 million Latino homeowners by 2030. The game-changing initiative was rolled out at the United States Capitol on June 14th and was covered by Axios, Yahoo Finance, Barron's, El Diario, and Telemundo, among other notable outlets. UnidosUS President and CEO Janet Murgía was joined by Senator Robert Menendez (D–N.J.), Senator Ben Ray Luján (D–N.M., Representative and CHC Chair Nanette Diaz Barragán (CA–44), Representative David Valadao (CA–22), and Representative Juan Vargas (CA–52) as well as Wells Fargo's head of Diverse Segments, Representation and Inclusion, Kristy Fercho, at the press conference.
Two Cerberus executives, Amir Salek and Scott Spellmeyer, were featured on the Forbes Iconoclast stage earlier this month. Amir joined artificial intelligence experts for a conversation on the new frontier of AI applications across industries and how investors can capitalize on the technology. "The power of computers has reached a point where AI has pushed the threshold of what was previously considered to be the depths of its capacity." Watch the session.
---
The Goods Revamped
We are excited to share that there are two new writers on The Goods team, who will add new viewpoints and insights. Learn more about them below!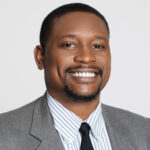 Alvin Jordan, Director of Communications and Public Affairs, is an award-winning communication strategist specializing in crisis communications, media relations, and public affairs. At GSG, Jordan supports the firm's communications and corporate reputation practices in Washington, DC. He is passionate about advancing diversity, equity & inclusion and is dedicated to aiding organizations in cultivating diverse POVs to ensure client messages are understood by all audiences.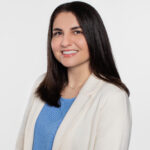 Victoria Dellacava, Manager of Communications and Public Affairs, has focused her career on raising awareness for organizations advocating for important causes and supporting underserved communities. She brings her media relations, thought leadership, and digital and social media expertise to her work with GSG's clients and team. At GSG, she works with a variety of nonprofit, corporate, and public affairs clients.
---
Did we tell you something good? Share with a friend.