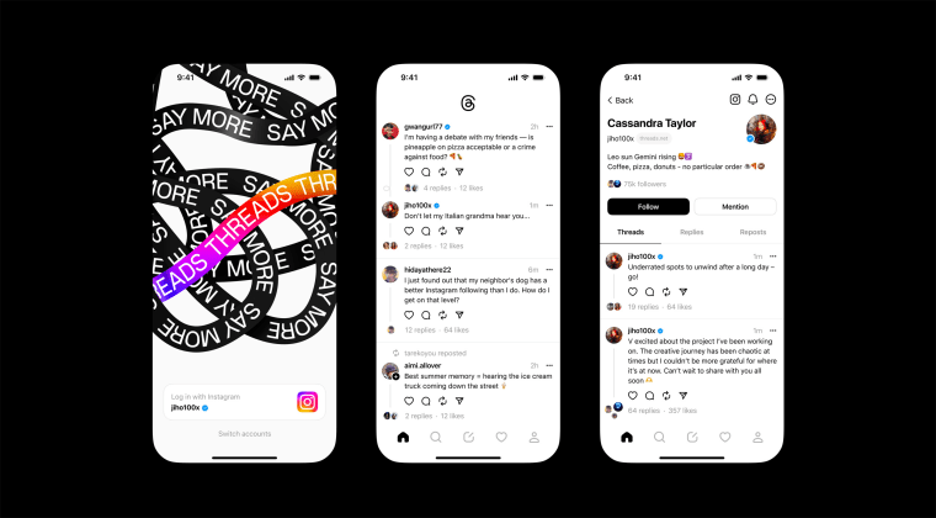 By Ryan Alexander
Instagram's new Twitter-esque app, Threads, has already exploded to more than 100 million sign-ups in less than five days – making it the most rapidly downloaded app in history.
Threads, which aims to capitalize on user unrest at Twitter, could quickly become a serious competitor. Other emerging rivals to Twitter, like Bluesky, Mastodon, and Post, have yet to achieve critical mass. Despite all the buzz on the internet around Bluesky, it reportedly only has about 65,000 active users — which compares to more than 400 million active users on Twitter.
Instagram, meanwhile, has over 2.35 billion active users. And while Threads is a standalone app, it is integrated with Instagram, which makes creating a Threads account seamless. Instagram is also heavily used by influencers, and Meta's push to have public figures sign on as early users was a smart play.
If Instagram can convert a fraction of its users to Threads, which it seems to be doing at a rapid clip, the new app will become critical to organizations' social strategies.
Here are five things we're watching:
1. Who exactly is on Threads?
Instagram is known for its influencers, so it tracks that celebrities such as Oprah, Shakira, Mark Cuban, and Gordon Ramsay were all quick to join, along with major league and college sports teams and corporate accounts like Wendy's, Netflix, and Spotify. An important indication that Threads could rival Twitter among the chattering class is that media outlets are also well-represented, with the New York Times, Washington Post, Axios, Vox, and The Hill all on the app. The Hill compiled a list of elected officials on the app – according to the post more than 300 major politicians have already joined.
At present, a prerequisite for joining Threads is an Instagram account.
If you or your organization is not yet on Instagram, we strongly suggest creating an account and signing up for Threads, if only to reserve your desired handle.
If you've been wary about creating an Instagram account because your organization doesn't have the capacity to post a lot of photos or videos, remember that you don't actually need to post anything on Instagram to have a Threads account – and all that content you're generating for Twitter works on Threads. That said, Threads is definitely built with Instagram users in mind. If you don't already have an Instagram account, you're going to need to spend some time manually searching for and following other accounts on Threads, whereas existing Instagram users can just port all the accounts they follow over.
2. What are the key differences between Threads, Twitter, and Instagram?
The Threads experience is very similar to Twitter. Users can repost, reply to, or quote a thread, as well as see the number of likes and replies a post has generated. A single thread can have up to 500 characters (compared to Twitter's 280-character limit for non-paid accounts or Instagram's 2,200-character limit) and can include links, photos, and videos up to five minutes long.
There are some other big differences between Threads and Twitter. One of the most controversial is how Threads' feed works. There is currently only a single feed which combines threads from accounts you follow as well as ones you don't yet follow.
Adam Mosseri, who is the head of Instagram, confirmed that a "following" feed is coming. In a separate thread, he confirmed that #hashtags are also on the list for development.
While Instagram primarily connects users through photos and videos, Threads seeks to "take what Instagram does best and expand that to text" while creating a "positive and creative space" for people and organizations to "express ideas," according to Instagram's blog.
After facing criticism over the years for adding features to Facebook and Instagram, Meta was smart to launch Threads as a standalone app – giving text updates a focus in its own app versus adding bloat to its existing entities.
3. Will you be able to advertise on Threads?
We don't know when Meta will launch advertising on Threads, but Axios is reporting that Meta is bringing Instagram's "branded content" tools to the platform shortly. That will allow marketers to work with influencers on the platform to post sponsored content on Threads while traditional digital advertising remains off limits.
According to Reuters, Meta CEO Mark Zuckerberg has said the company "would only think about monetizing Threads once there was a clear path to a billion users."
When advertising is launched, it is expected to work the same way ads on Facebook and Instagram work – through Meta's Business Manager platform, which allows you to seamlessly advertise across multiple Meta properties and apps from one dashboard.
4. How have Elon Musk and Twitter responded to Threads?
Elon Musk has responded with some NSFW tweets that we won't link to or publish here – but he also had his lawyer send a letter to Meta accusing Threads of engaging in "systematic, willful, and unlawful misappropriation of Twitter's trade secrets and other intellectual property." The letter also accuses Meta of hiring dozens of former Twitter employees with the intention of creating a "copycat" platform.
Meta responded to the letter by saying, "No one on the Threads engineering team is a former Twitter employee — that's just not a thing."
5. So what should my Threads strategy be?
It's still early, but here's what I think: Threads is similar to Twitter, so a lot of an organization's Twitter strategy can likely be applied to Threads. If you already have a Twitter account, I'd start by cross-posting content made for Twitter on Threads. Just remember that things like #hashtags are not operational yet on Threads, so remove those when you cross-post.
We have noticed a few organizations and individuals resorting to old-school Twitter strategies, such as #FollowFriday, to grow their followings and let their followers know what accounts they are discovering on the platform. Some major public figures, such as Mark Cuban and Rep. Alexandria Ocasio-Cortez, have also conducted AMAs (ask me anything) to drive up their engagement and reach in the first few days of the platform.
It is important to note that there are few details about how the Threads algorithm works at this early stage, other than it is an algorithm of your followers and content Threads thinks you may be interested in. There is no follower feed, and there is no reverse chronological order feed – or at least not yet. Very timely posts, like those about breaking news, may not show up in a user's feed until hours after they are posted. With the unknowns about the algorithm and some feed features still in development, it will be important to test a variety of content types on Threads – and continue to test as new features come online.
In conclusion
Threads seems to be off to a promising start as a competitor to Twitter.
However, it's important to remember that Google+ also got off to a fast start as a potential competitor to Facebook back in 2011. At the end of 2011, Google+ had 90 million users but was unable to sustain that growth, eventually becoming a ghost town before being shut down in 2019.
The challenge for Meta will be whether it can keep users who sign up for Threads coming back and logging in on a regular basis. Additionally, the app faces regulatory hurdles in the European Union, which may limit its global growth.
Despite the challenges, Threads seems to be an app worth experimenting with for many individuals and organizations, especially those who have growing concerns over Elon Musk's chaotic reign at Twitter.