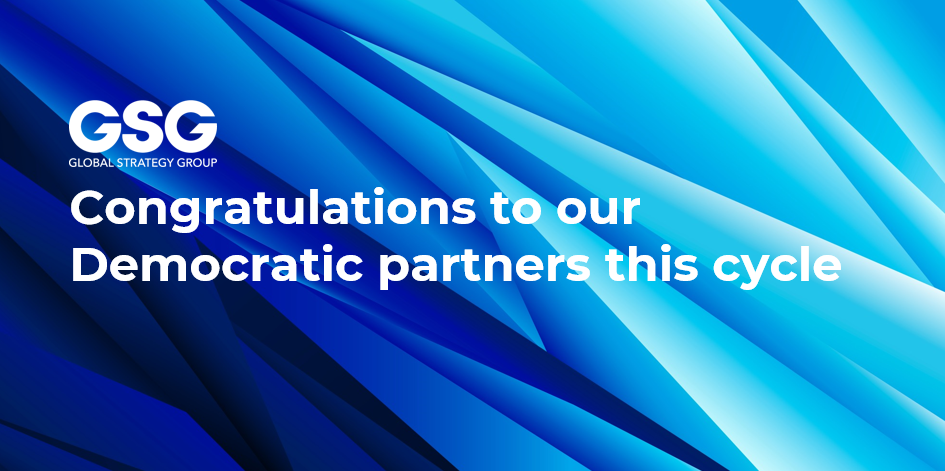 On behalf of the entire team at Global Strategy Group, we'd like to congratulate our Democratic colleagues, clients, and friends for their successful efforts in this hard-fought cycle.
Through smart campaigning, persistence, and adherence to our beliefs, Democrats overcame historical headwinds up and down the ballot. While every election is important, this year the stakes were particularly high: with democracy, abortion rights, and fundamental equality on the ballot. We celebrate the victories Democrats earned this Election Day as they give us hope and reinvigorate our commitment to the fights ahead.
Global Strategy Group is especially proud to have served as strategic research partners for a number of Democratic candidates, committees, and progressive organizations.
On a critical night in statehouses across America, GSG conducted research to elect five Democratic Governors in hard-fought campaigns. Our work included the campaigns of Governor-Elect Josh Shapiro (PA), and Governors JB Pritzker (IL), Kathy Hochul (NY), Janet Mills (ME), and Ned Lamont (CT). We also conducted research for outside groups on behalf of Governor Jared Polis (CO) and Governor-Elect Wes Moore (MD).
Across five top U.S. Senate battlegrounds, GSG's research and insights played a key role in the effort to hold the Democratic Senate Majority. In the crucial race for Pennsylvania Senate, we polled for both Senate Majority PAC and Giffords PAC on behalf of John Fetterman (PA). For Senate Majority PAC, we also polled on behalf of Mark Kelly (AZ), and Raphael Warnock (GA) – and look forward to continuing our work in Georgia as that senate race heads into a runoff. For the Democratic Senatorial Campaign Committee Independent Expenditure, we polled on behalf of Catherine Cortez Masto (NV) and Maggie Hassan (NH).
GSG's polling helped secure victory for many incumbent House Democrats running in competitive districts, including for the campaigns of Sharice Davids (KS-03), Abigail Spanberger (VA-07), Mikie Sherrill (NJ-11), Josh Gottheimer (NJ-05), Steven Horsford (NV-04), Pat Ryan (NY-18), Joe Morelle (NY-25), Bill Foster (IL-11), Jason Crow (CO-06), and many more.
Despite the expectations that Democrats would solely be on defense, GSG conducted research for a number of newly-elected Representatives, including Yadira Caraveo (CO-08), Gabe Vasquez (NM-02), Wiley Nickel (NC-13), and Robert Garcia (CA-42).
GSG polled on over a dozen frontline member races with the Democratic Congressional Campaign Committee, House Majority PAC, Shield PAC and others. GSG's work helped buck historical trends and defend Democratic incumbents across the country.
As Republicans ran a slate of election-denying candidates, GSG helped secure Democratic leadership in statewide offices that are critical to protecting democracy and ensuring government works for the people, including for the campaign of State Auditor Rob Sand (IA), with the Democratic Attorneys General Association on behalf of Attorney General Aaron Ford (NV), with other outside groups on behalf of Secretary of State-Elect Adrian Fontes (AZ), and for the campaign of Kris Mayes (AZ) who is leading her race for Arizona Attorney General as the results come in.
GSG's research with Two Peninsulas Research Group and the Michigan State Senate Caucus helped Democrats flip the Michigan Senate for the first time in nearly 40 years.
GSG led the research to defeat anti-abortion ballot initiatives in Kansas and Kentucky, to enshrine new voting rights in Michigan, and to explicitly prohibit slavery in the Vermont constitution – paving the way for new efforts on reproductive rights, racial equity and justice.
GSG helped advance labor issues and causes, including member research for the United Brotherhood of Carpenters around political attitudes and research to help grow membership for the National Education Association.
GSG worked for a variety of causes and organizations throughout the cycle to provide strategic insights and messaging guidance on major issues that helped elevate Democrats up and down the ballot, including on defining MAGA extremism and navigating issues such as abortion rights, the economy, human rights, equity, crime, policing, gun violence prevention, immigration, climate change, the environment, voting rights, education, international affairs, and much more. Those countless partnerships – and the important work that these organizations do – enabled Democrats to put their best foot forward and push back against baseless Republican attacks.
Again, we are incredibly proud to have been a part of this amazing work, and all of us at GSG look forward to our future partnerships to help elect more Democrats in the years to come.
Thank you and congratulations to all!
-The GSG research team