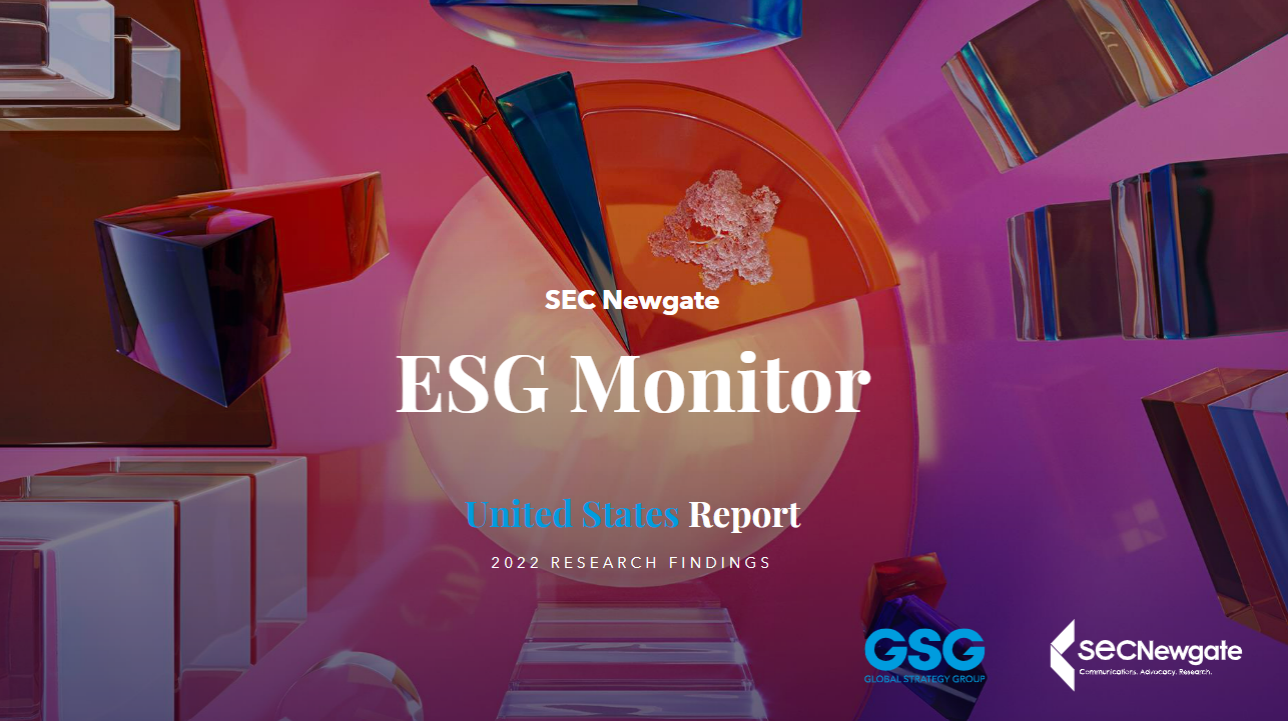 On October 19, SEC Newgate released the 2022 ESG Monitor, a global research project examining how Environment, Social, and Governance (ESG) issues influence perceptions of business and government. The study included over 12,000 respondents in 12 countries and territories across the globe, including the U.S. As part of this collaborative research endeavor, Global Strategy Group (GSG) has partnered with SEC Newgate to release the U.S. ESG Monitor Report, focusing on the American public's attitudes towards these issues, while offering important global perspectives and contrasts.
This new study explores challenges in the U.S., highlighting how a range of global disruptions, such as the steeply rising cost of living, rising energy prices, ongoing reverberations from the pandemic, and the war in Ukraine, are causing Americans to refocus on shopping fundamentals like price, quality, and convenience. However, despite pessimism stemming from economic concerns, the data shows ESG continues to affect consumer mindsets and behavior, proving it has lasting effects.
Some of the key insights from the report include:
Despite a heavy focus on economic fundamentals, 77% of Americans still feel that US businesses have a responsibility to behave like good citizens. They believe companies should consider their impacts on other people and the planet, suggesting that ESG is a durable, ongoing priority for American consumers that is here to stay.
Respondents said they were willing to both punish and reward companies based on their ESG practices. 61% say they have taken some sort of action (positive or negative) in response to an ESG issue, and 42% have actively purchased or used a product or service because of a company's good ESG behaviors, suggesting the payoff to standing out in this area can be great.

Companies receive low scores for their current ESG practices as Americans largely find them to be lackluster across organizational types. Though non-profits and small companies are generally perceived to be stronger in the ESG space than large companies, none receive an average performance rating of more than 6.4 out of 10.

Consumers in the U.S. and globally desire more transparency from businesses about their ESG practices. In the U.S., 70% say companies need to communicate the results of their ESG efforts more clearly, and nearly 1 in 2 (48%) don't trust what companies claim about these initiatives.
Companies need to be proactive and attention-grabbing in their ESG communications as only 6% of Americans are regularly seeking out information about these practices. The fact that consumers make so little effort to get informed presents a major opportunity for companies to fill the void and stand out as industry leaders.
"These findings indicate the majority of Americans still feel that companies are morally bound to take stock of the effect their actions have on people and the planet," said Carly Meyerson, GSG Vice President. "Importantly, we found it's never too late to start communicating about ESG, even for companies that haven't had a perfect track record in this area – 70% of Americans say they would give a company a second chance if they were transparent about the mistakes they made and clearly communicated their plan to improve their ESG practices moving forward."
Earlier this year, GSG announced a new partnership with SEC Newgate, an international strategic communications company headquartered in Milan, Italy. GSG is now the flagship U.S. agency for the consultancy, which includes 900 employees across 43 offices on five continents.
"This study has benefited from bringing together top minds in ESG and research from across the globe to analyze the data and draw unique insights from it, shedding light on the role ESG should play during a tumultuous time. The spirit of the report and effort to bring it to the marketplace is exemplary of why we launched our global company," said Fiorenzo Tagliabue, CEO of SEC Newgate.
Sign up below to receive future updates from Global Strategy Group.