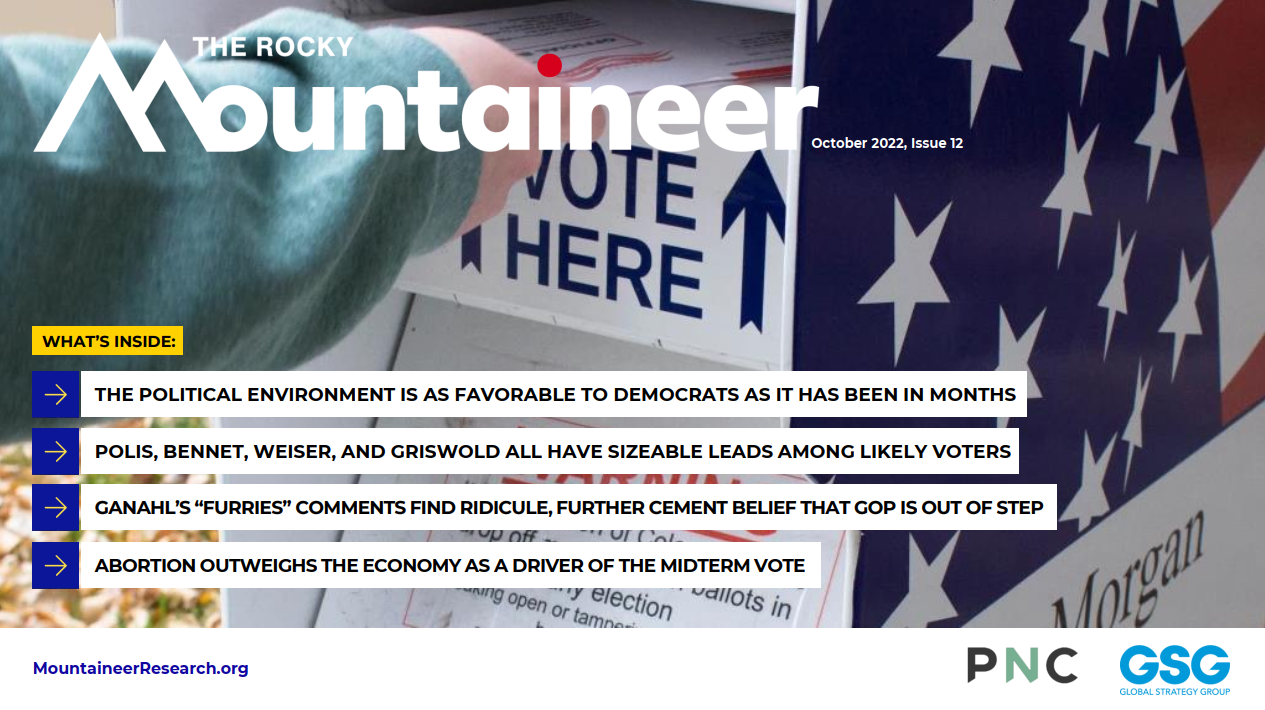 Welcome back to The Rocky Mountaineer: a quarterly survey from Global Strategy Group and ProgressNow Colorado that measures Colorado voter attitudes and provides insights and message guidance for progressive communicators in Colorado on the issues and players that are driving politics and policy in the state.
This twelfth publication focuses on the political landscape and the major issues voters are focused on a month before the midterm elections, including voters' views on the parties and who they prefer at the top of the ticket.
In this issue:
Democrats in Colorado are well-positioned to sweep the top statewide races. Democrats have strong advantages on multiple metrics, including party self-identification, the generic ballot for state legislature, elected official and candidate favorability ratings, and in each of the four statewide races – in which Polis, Bennet, Weiser, and Griswold all enjoy solid leads.
The GOP brand is in tatters and made worse by Ganahl doubling down on "furries" comments. Voters believe Republicans are out of touch and have the wrong priorities, especially when it comes to the issues of abortion, helping corporations over families, and pleasing Trump. Heidi Ganahl has only made matters worse with her recent decision to focus on "furries" in schools – a decision that has been met with mockery and eyerolls from Colorado voters who call her comments "ridiculous."
Abortion remains a motivating issue and outweighs the economy as a driver of the midterm vote. Coloradans oppose overturning Roe v. Wade and believe women should have access to abortion care in Colorado. Two-thirds think that if the GOP takes power in Colorado, then they will try to ban abortion. Perhaps most important, when a Democratic message on abortion is matched against a GOP message on the economy, it shifts the vote towards Democrats by 9 points.