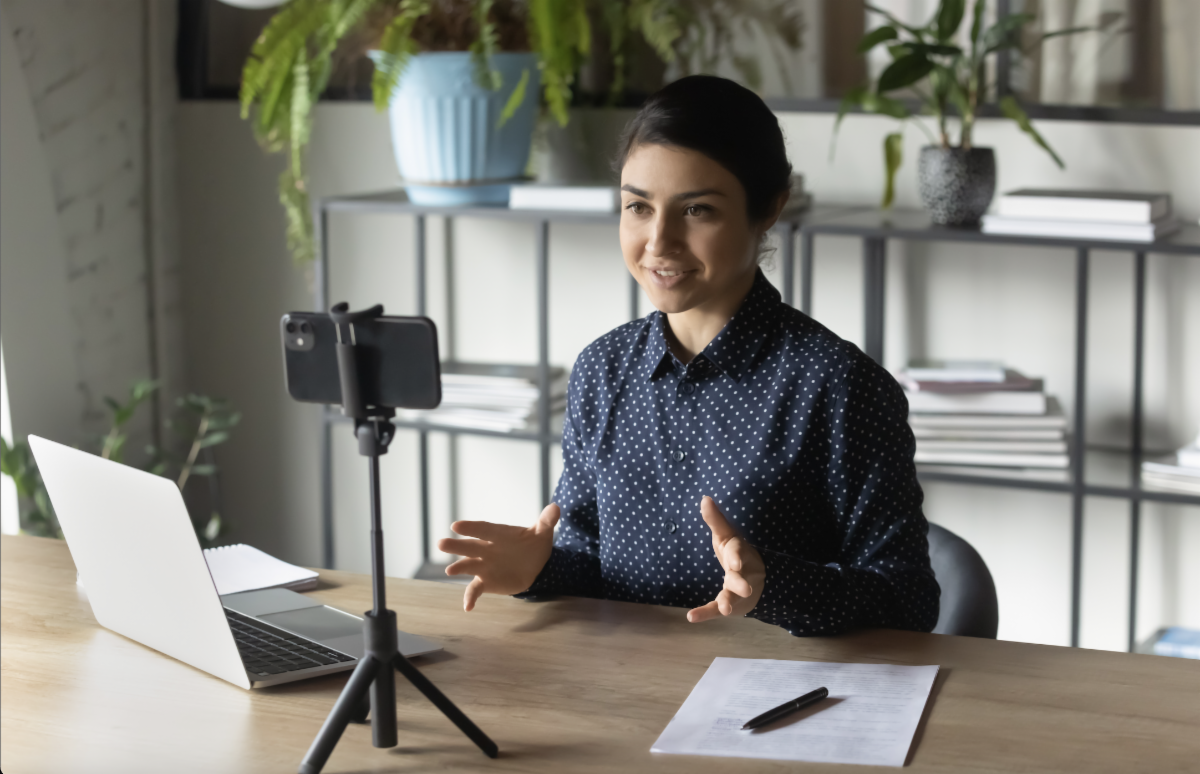 March begins with world-changing news from Europe, and we at GSG stand first and foremost in solidarity with the families and individuals whose lives are being affected by the Russian attack on Ukraine.
As people all over the world continue to live, work, and share stories during this historical moment, many of us are once again turning to social media in pursuit of the truth, scrolling through endless harrowing tales, eyewitness accounts, and even wartime memes. At a time when traditional journalism is in decline, technology continues to democratize who consumers trust to provide information, with independent journalists constantly posting updates to Twitter and TikTok, and, in doing so, continuously beating out the televised and print news cycles.
Last month also brought forth discussion about authentic representation, censorship, and the ethical responsibility of publishers and platforms. Leaning into civic engagement continues to be in the best interest of publicly traded companies, and a push for sustainability and inclusivity is still at the forefront of corporate agendas.
What March has in store right now seems more uncertain than ever, but we're still watching and listening, committed to keeping up with the latest trends of our industry and our country.
News On Our Radar
Signal AI: The State of Corporate Reputation and Business Performance
Signal AI's State of Corporate Reputation and Business Performance report revealed that 72% of CEOs now view reputation as a more important driver of performance than profit margins. 92% of leaders interviewed believe their companies' response to ESG issues over the next year will greatly impact how the public views them. (Signal AI)
Civic Engagement Seems to Be Good for Big Business
Publicly-traded companies that practiced civic engagement—especially during the 2020 election—outperformed the SP-500. Providing time off to vote, speaking out against restrictive voting laws, and taking action on social and political issues all correlate with better market performance, more engaged workforces, and improved corporate reputation. (Fulcrum)
#RealTalk: The State of Brand Behavior on Twitter and What's Coming Next
Twitter released its #RealTalk report, which analyzes 10 years of brand-produced and brand-related tweets while trying to answer one burning question for brands: do people really like us? Unsurprisingly, Twitter users were not too keen on insincerity, opportunism, repeated use of stale messages, and lack of diversity and inclusion. (Twitter Marketing)
Is There a Market for Saving Local News?
America's growing news deserts are fueling the nation's ideological polarization. As audiences in underserved communities turn to social media and national outlets for news, they're losing sight of key issues affecting their everyday lives–such as local elections—and focusing instead on far-off partisan politics in Washington. (New Yorker)
Communicating with a DEI Lens
ADCOLOR Releases Study Examining Black Employee Retention Numbers In Creative Industries
DEI initiatives, listening tours, and hiring pledges have not succeeded in making the advertising industry's diversity and inclusion problems go away. ADCOLOR's State of the Workplace Study aims to help creative agencies understand what's making employees from historically excluded groups reluctant to stick around. (Essence)
Building an Inclusive Metaverse Starts Now. Here's How.
When creating an alternate universe, it's a good idea to apply the lessons learned in our current one. That means ensuring the Metaverse is a diverse and inclusive place right from the get-go. But laying this foundation is not only tech companies' responsibility—everyone needs to pitch in to build virtual spaces that are secure and open to all. (World Economic Forum)
Multicultural Marketing Investments Expected To Grow In 2022
A panel of ad industry leaders representing Hispanic and AAPI segments reported a surge in demand for in-language and in-culture creative services in an interview with Forbes. They linked the increase to social justice movements, the growing social and economic influence of multicultural populations, and efforts to reach culturally diverse GenZ audiences. (Forbes)
Comms Insights
Old-fashioned Journalism May Be Dead, But There's Good News
When anyone with a smartphone can tell a story, anyone with the right skills and reach can become the next big name in news. Technology continues to democratize journalism, and the internet's capacity for information provides a constant supply of content from eyewitnesses and independent creators. (Entrepreneur)
Celebrating Black Americans Beyond February: A Lesson in Brand Authenticity
While many companies have claimed a dedicated effort in the last two years to increase their representation of Black Americans, when it comes to advertising, brands are often still misguided in their messaging. After nearly two years of promises from brands to support racial justice, Black Americans continue to express feeling misunderstood and ignored. (AdWeek)
Women's Health Brands Address Social Media Censorship
Women's health brands are struggling to communicate effectively on social media as they face continued censorship from platforms like TikTok and Instagram. Women founders are now attempting to address their challenges in communicating to their audiences about important women's health topics. How do they get around posting images of breastfeeding and reproductive health? They don't. (PR Week)
Winners and Losers in the Long Game of Super Bowl Advertising
Super Bowl ads seem to have reached peak escapism this year, with brands cashing in on a post-quarantine dopamine rush and the built-in appeal of celebrity. Who were the Monday winners of Super Bowl 56? And more importantly, which ad spots will result in long-term success? Let's consider Budweiser, GM, and Salesforce. (AdAge)
What Responsibility Do Platforms Have For Content They Release?
Some critics argue that Spotify needs to take greater responsibility for the content they feature, while other commentators suggest that anger at any media platform should be redirected to creators themselves. The larger discussion here is whether the same ethical expectations apply to platforms and publishers. A collection of viewpoints here: (Columbia Journalism Review)
GSG At Work
GSG's Latest Episode of STAFFER
In this latest podcast episode, Maria Teresa Kumar, who is CEO of Voto Latino, discusses her journey from Capitol Hill staffer to registering 1.1 million Latino voters. (STAFFER)
Erin Billings Named Partner for GSG
We're excited to announce Erin Billings as a new Partner at GSG. Erin joined us in January 2018, and since then, has helped develop and grow the firm's impact in Washington, DC.
Share The Goods!