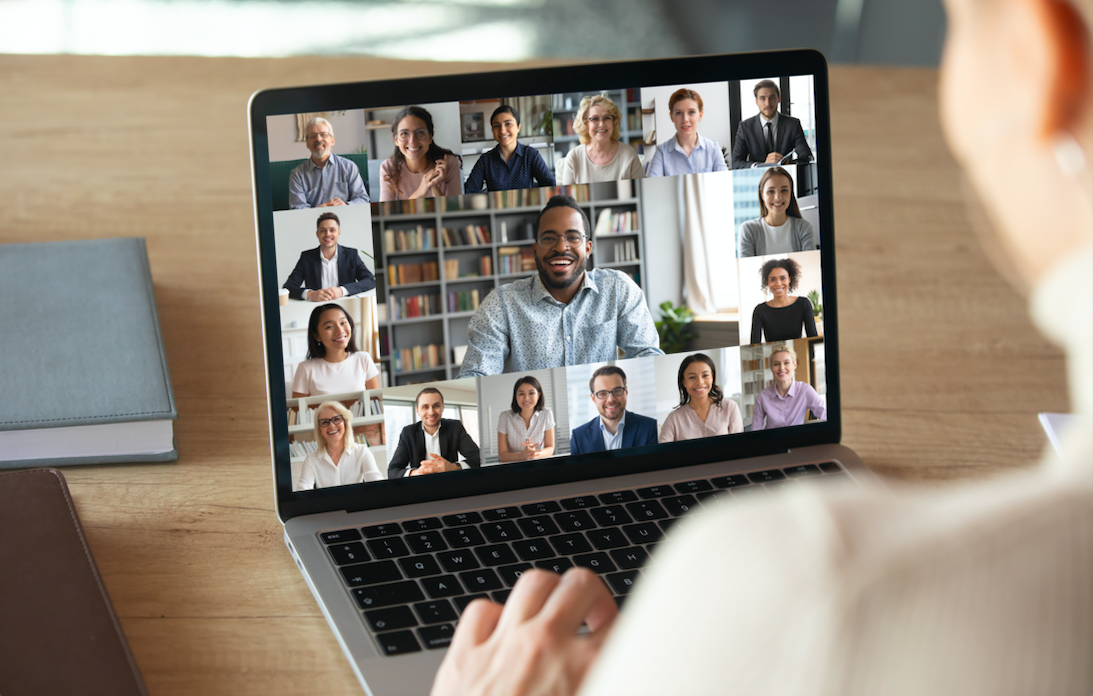 Hello, readers.
As we inch closer to the New Year, we're witnessing brands step up to the plate to promote more inclusivity. Google is partnering with the New York Times' T Brand studio to show how the Google Pixel 6's Real Tone feature can more accurately capture the full spectrum of skin tones, and Vox is working with its section editors to ensure all stories are being published from an intersectional lens.
Harvard Business Review shares how storytelling can be the key to authentic empathy-building and inclusion, and we look at how to use your workplace communication tools to build a more equitable place in the office, both virtually and in person.
Finally, we explore what the future of work looks like as we continue with remote and hybrid work. You'll find valuable tips on how to ensure accessibility for all your events, discover which demographic is an untapped market in the podcast space, and dig into the biggest social media trends as you plan your marketing strategies for the next year.
Like many of you, we're looking forward to celebrating the holidays with our loved ones. Wishing you a safe, happy holiday season from The Goods!
News On Our Radar
Google and New York Times Changing How Skin Tones are Seen in Storytelling
Truly diverse representation in storytelling and imagery isn't quite here yet. To keep progress moving in the right direction, Google Pixel 6, which uses what the brand calls "Real Tone technology" to more accurately capture skin tones and textures in photos, has partnered with the New York Times' T Brand studio to show how the feature can be used by visual storytellers to create equity through imagery. (AdWeek)
Vox Refines Editorial Strategy to Tell All Stories with an Intersectional Lens
Vox.com recently eliminated its Identities section, which covered a range of topics from criminal justice to race and gender. Editor-in-chief Swati Sharma says that the move is actually a part of a larger strategy to tell all stories through an intersectional lens rather than isolating race and identity sections under a different section. The goal, she says, is to explain the news in a way that empowers the audience by providing the context and clarity they need to understand the world around them. (Nieman Lab)
Philanthropies Planning a Nonprofit Newsroom in Cleveland
A coalition of philanthropies announced plans to launch a nonprofit newsroom to provide coverage of Cleveland, Ohio in an effort to fill a void left by news organizations forced to shutter from lack of advertising dollars. The donors say theirs will be one of the largest local nonprofit news startups in the nation, after finding that closed newsrooms meant that local residents no longer had access to the information that they needed to make important decisions about their lives. This effort aims to fill the gap and strengthen democracy building in the community. (ABC News)
Newsletter Startup Substack Hits One Million Subscribers
Newsletter startup Substack has reached a major milestone of one million paying subscribers, highlighting the business model of direct subscriptions to access content from trusted journalists and writers. The platform offers a space for writers to self-publish content and create their own freelance business, charging a fee for each subscriber. Chief executive and co-founder Chris Best believes that this is proof that "great writing is valuable," in contrast to social media practices that reward clickbait content. (Financial Times)
How Facebook's Meta Rebrand and New Logo Can Change the Company
Meta, the next iteration of Facebook, launched the official rebrand of the social media giant. But how much will the new name and logo actually matter to users? While Meta attempts to differentiate itself from the criticisms of Facebook's past, it's going to take meaningful company-wide changes to their business priorities and company culture in order to regain consumer trust. (Ad Age)
Communicating with a DEI Lens
Why Tour Chief Executive Officer Should Be Your Chief Diversity Officer
Oftentimes, promoting DEI is seen as the responsibility of the chief diversity officer or the HR department, but building a diverse and inclusive workplaces means adapting culture from the top down. If DEI is built into a company's vision and fully ingrained, it's more likely to succeed, meaning that it should be integral to the CEO's leadership efforts. Company leadership has the power to ensure that all employees are not tokenized and those from underrepresented backgrounds have opportunities to lead, in addition to having the power to influence the workplace culture and industries at large. (AdWeek)
How Sharing Our Stories Builds Inclusion
To build inclusive workplaces and communities, awareness, connection, empathy, and mutual respect are necessary. But it's not data that succeeds in creating those emotions and inspiring change, it's the human stories behind them. As more organizations double-down on the importance of diversity, and consumers continue to demand more from the companies they support, it's more important than ever for leaders to look inward first, encouraging authentic stories of diverse experiences from their own teams and creating the safe spaces to share them. (HBR)
Powering Workplace Equitability Through Unified Communications
As remote and hybrid work continue, enterprise unified communications (UC) environments like Zoom, Microsoft Teams, and Slack offer opportunities to enable and implement DEI efforts. Home life differences, like having to balance work with caretaking, highlight the fact that employees should have access to the tools they need to succeed rather than giving each individual the exact same experience. With UC, leaders can ensure that employees have equal opportunities to participate, measure performance through outcomes instead of hours spent on a task, and enable intentional team collaboration to foster innovation. (Forbes)
Comms Insights
Ensuring People with Disabilities Can Participate in Virtual Events
One in four people in the U.S. has a disability, according to the CDC, but experts say most organizations are not doing enough to ensure that their events are inclusive to these groups. To foster real inclusion, the key is to factor accessibility into your planning and budget from the very beginning, take advantage of features that online tools already offer, like captioning, and ask if participants need accommodations during the registration process. Ensuring that in-person events are fully accessible and include people with visible disabilities in marketing materials are some practical tips you can implement which are featured in this article. (Chronicle of Philanthropy)
Leveling Up Your ESG Communications
In 3BL Media's latest guide, find tips on how to convert your company's ESG data into storylines that resonate with your audiences. From leading with transparency to tailoring your content for different platforms and audiences, the best communicators are making ESG central to their content strategies. If you haven't yet done so, analyzing what your peers are doing in the ESG space may also give you insights into how others are communicating their social good agendas or what practices your consumers want to see from you. (CSRWire)
Report: Social Media Trends for 2022
HootSuite surveyed more than 18,000 respondents and interviewed over 15 experts, tracking data from over 200 countries to identify the top trends in social media for the new year. The top trend in brand strategy leans into the creator community, tapping into the audiences and communities built on authentic interest rather than big-name celebrity endorsements. Other trends include the rise of TikTok, social media shopping, and thinking of social media as a vital customer service channel. Read about all the trends you can expect for 2022 in the full report. (HootSuite)
Video: How Creative Minds Are Rethinking Storytelling
Google asked global creative leaders how they're rethinking online video storytelling. Thinking like a consumer, producing authentic content, using data — such as audience comments — to continue the conversation and adapt creatives, and communicating brand messages differently across platforms are just some of the many key strategies. Find out how some top creative minds are evolving their approaches to storytelling in the interview. (Google)
Research: Black Podcast Audience is an Untapped Market
A survey from SXM Media polled participants of listening habits, preferred content, brand trust, and more of Black audiences, finding that Black weekly podcast listenership is up to 26%, led by Black women, who make up 56% of Black podcast listeners. Marketers can seize upon this opportunity to partner with and support Black podcast creators. Not only will they help elevate underrepresented voices, but they will be able to further connect with Black audiences as well, 81% of which stated that they would be likely to trust a brand whose advertisement was featured on a podcast with a Black host. (PR Week)
GSG at Work
The Melting Pot: GSG's Ongoing Look at Racial Politics in America
Read GSG's newest report on pressing political issues facing America. Key takeaways: "Defund the Police" needs a rebrand, and negative framing of Critical Race Theory (CRT) among white Republicans in battleground states unified Republicans in 2021 and may divide the Democratic party in 2022. However, counter-messaging focused on allowing teachers to teach complete facts about historical events has the potential to lower the temperature on the issue.
Changemakers Q&A: Heather Higginbottom, Co-Head of Global Philanthropy, JP Morgan Chase
At JP Morgan Chase, Higginbottom jointly leads efforts to create an inclusive economy and advance racial equity. In GSG's latest Changemaker interview, find out what programs the company is implementing to address the racial wealth gap and drive growth in racial equity, how they're tracking long-term success in that effort, and how a commitment to transparency is helping their communication efforts on impact.
GSG's Latest Episode of STAFFER
In this latest podcast episode, hear from former Executive Director of the Congressional Black Caucus, Paul Brathwaite. Brathwaite brings more than two decades of government relations experience to his clients. Listen in for his insights on authentic representation on the Hill and deliberately cultivating diversity.
Share The Goods!