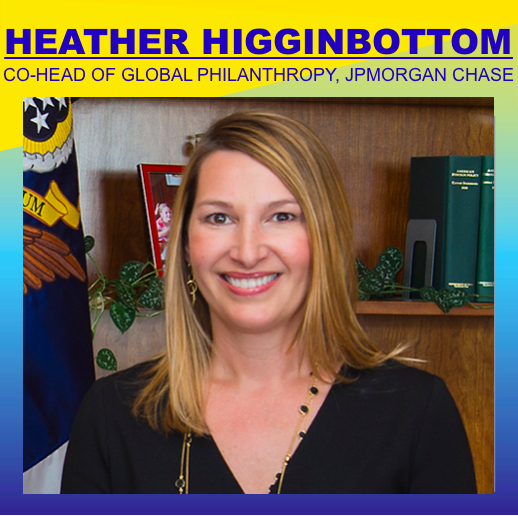 Heather Higginbottom is co-Head of Global Philanthropy at JPMorgan Chase. In this role, she jointly leads efforts to help create an inclusive, growing economy, and to advance racial equity. This includes systems-level change through policy recommendations, as well as R&D opportunities as part of the firm's $2 billion commitment in innovative partnerships and philanthropic investments globally. Heather also serves as Head of Policy & Research for Corporate Responsibility, overseeing the JPMorgan Chase Institute and PolicyCenter, which together champion evidence-based policy that advances an inclusive economy through distinctive research and cross-sector engagement
How do companies make the business case for corporate responsibility work?
Our premise is simple: an inclusive economy — in which there is equal access to opportunity — is a stronger economy. We know we are only as strong as the communities we work in and serve, and the economies they support. So, it is both a moral imperative and just good business sense for businesses to help strengthen those communities and drive their healthy economic growth, in partnership with government and community leaders.

That's why at JPMorgan Chase we are committed to advancing a more inclusive economy and strong financial systems around the world.
Last year JPMorgan Chase committed $30 billion over five years to advance economic growth and opportunity for Black, Hispanic, and Latino communities. What specific programs within the Racial Equity Commitment umbrella have been most impactful so far?
This racial equity commitment is really bringing to bear the full force of the firm to help drive inclusive growth. This includes not just philanthropy, policy, and data expertise – where my team and I live — but also includes lending, equity, and direct funding to help increase sustainable homeownership, expand affordable housing, grow small businesses, support diverse suppliers, improve financial health and access to banking, and build a more diverse and inclusive workforce. We think, especially taken together, this will be a pretty powerful force for addressing the racial wealth gap.
In our first year, the firm is building the infrastructure and foundation to help ensure the success and longevity of these commitments. That said, we also deployed or committed more than $13 billion of its $30 billion goal to help close the racial wealth gap. This was largely driven by affordable rental housing preservation and homeownership refinance, which were areas where we had existing products and processes and took prompt action to do more.
It's a big ship we are steering; while we have made solid progress in our first year, we have more work to do and are committed to getting it right. I invite readers to check out more on our commitment and follow along on our progress here: https://www.jpmorganchase.com/impact/racialequity
With such a large commitment to advancing racial equity being made over many years, how do you expect to track and communicate the impact at a high-level? What are the major indicators of success you'll be looking at down the road?
This commitment is large and long-term, and importantly, it builds on our existing efforts. Our work is never done. At the same time, this commitment was developed with specific targets to hold ourselves accountable.
To that end, we are committed to transparency. We built a robust reporting and governance process to track the $30 billion Racial Equity Commitment. Starting in May 2022, the firm plans to publish progress annually in our Environmental, Social and Governance (ESG) report.
Does the company have a framework in place for how to respond to major social issues as they happen?
At JPMorgan Chase, we believe that business has a role in helping to solve major social issues – but also that we cannot and should not engage on every issue or headline. We have a team of subject matter experts that weigh situations holistically, and that conversation is rooted in two questions: does this affect our community, including clients, customers and/or employees? And, do we have something to add? If we don't have credibility or something to offer, then we know that's not a table we should be at.

What leadership values and traits have you found to be most useful in your role? How have you been most effective at making change within the organization?
Leading organizations through change — and ensuring it sticks — requires bringing people along; change that happens to people, but not with people, is short-lived. So, I have found that ways of working that are both organized and empathetic to be an effective combination. That requires candid discussions, transparent communications and collaborating among and across teams. And to bring people along, it's critical to know where they're going – that means having clear objectives and defined paths to get there.