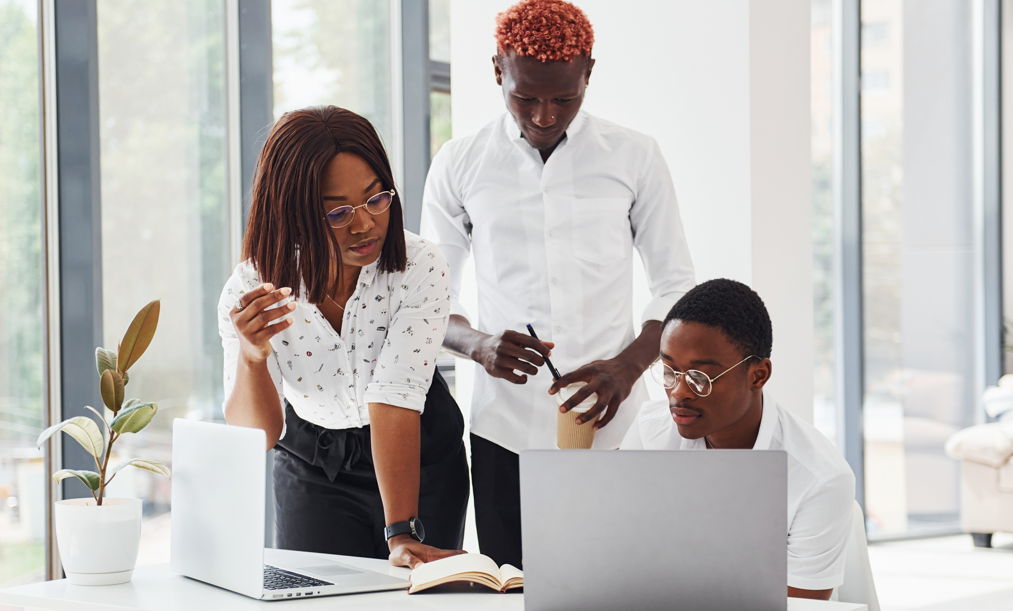 Hello readers! We hope you had a great August and found time for some much-needed R&R. While you were away, we captured all of the social impact news and helpful resources to share with you. Here's what we're tracking:
T Brand of New York Times Advertising just launched a platform focusing on Black stories by Black voices, learn how Twitter's new partnerships will combat misinformation, and a group of foundations have seeded funding to empower storytellers and content creators around the world.
Does social innovation need a complete makeover? In SSIR, read about an approach to make a true inclusive transformation. We also share a strategy on how to ensure long-term impact in your DEI implementation at work. And, if you're looking for some communications-focused events to attend, we have a few to put on your radar.
Here are The Goods for September.
News On Our Radar
Foundations Launch $30M International Storytelling Initiative
The Ford, Skoll, and Compton Foundations recently announced the launch of the International Resource for Impact and Storytelling (IRIS) to foster deeper collaborations between civic leaders and content creators. IRIS will deploy up to $30 million over three years to strengthen creative moving image content in Latin America, the Middle East, Africa, and South Asia. (Devex)
Facebook Announces Social Impact Education Conference
The pandemic forced many organizations to pivot online. To aid nonprofits in the challenge, Facebook will hold its first ever Social Impact Education Conference. The event will be held in early September and will offer a variety of workshops on social impact, community engagement, communications strategy, 1:1 consultations with Facebook experts, and more. (Social Media Today)
SSIR: Open Social Innovation
How do we rejuvenate and develop new approaches to social innovation? By tapping into the power of collective action — think hackathon — where industry, NGOs, and governments can collaborate to find effective solutions. In this article, the authors give a real life example of how to innovate and scale, and share lessons learned in the process. (SSIR)
Three Things to Know About Apple Mail Changes
What you need to know about Apple's mail privacy protection announcement, and how it will affect your tracking metrics. With Apple Mail users making up an estimated 40% of all email clients globally, the elimination of open rate tracking will affect all marketers who use email in their campaigns. (Campaigns & Elections)
Twitter Partners with News Organizations to Address Misinformation
Twitter's Curation team announced partnerships with The Associated Press and Reuters in an effort to add more context to information circulating and trending on the platform. The team is also involved with search result rankings, assuring that high-quality content will appear at the top of searches, which is especially important during highly visible events like the COVID pandemic or elections. (TechCrunch)
DEI Focus
Storytelling of the Black Experience, "Soul of Us," Launches
T Brand, the branded content studio of New York Times Advertising, launches The Soul of Us, a journey into Black life in America and why it matters. It will enable brands to participate in thematic storytelling efforts that will highlight Black experiences through Black voices. (NYT)
Burt's Bees First Brand to Use Diverse Creators Network
Earlier this summer, Omnicom created the Diverse Creators Network (DCN) to help marketers connect with BIPOC content creators who often experience pay and opportunity inequalities. While the DCN has attracted interest from many brands, Burt's Bees is the first to launch a campaign. It stars Tiara Willis, a licensed esthetician known for sharing beauty and skincare advice for women of color. (AdAge)
DEI is Not an Initiative; It's a Reflection of Your Leadership
Diversity, equity, and inclusion programs are made a top priority for many companies, but how do you ensure long-term impact? LIFT, a four-step process, might be the strategy that you need to effectively address DEI strategies within your organization. (Forbes)
Comms Strategy
Comms Challenges Facing Aid Groups in Afghanistan
Three aid organizations working in Afghanistan share their biggest communication challenges during the American withdrawal. Read about their experiences, priorities, and advice they have for communicators. (PRWeek)
How Can Health Communications be Improved?
Literacy rates and quality of health are intertwined. Harvard's Rima Rudd answers important questions on the subject and gives tips for health communicators on how to more effectively remove barriers to information. As the COVID pandemic lingers on, better health communication can improve consensus about what's true and what's not. (Governing)
The Ultimate List of Email Marketing Stats for 2021
Email marketing generates $42 for every $1 spent, which is a 4200% ROI. Surprised by that statistic? How about the fact that Fridays see the highest open rates? Find that and a whole lot more, plus email best practices, in this useful resource. (HubSpot)
Holiday Season 2021 Marketing Predictions and Tips
Holiday sales are predicted to rise in 2021 with record e-commerce expected. What should you be preparing for and how can you maximize opportunities? From amplifying storytelling to tapping into nostalgia marketing, here are some great marketing tips. (Forbes)
How To Measure and Improve Your Employee Communications
Are you measuring the effectiveness of your internal corporate communications? You should be, according to Forbes. Measurement is the best way to ensure that content represents executive leadership, is relevant to employees, and helps them do their jobs better. (Forbes)
GSG at Work
Changemakers Q&A: Margaret Taylor, Public Affairs Director, Salesforce
Taylor oversees policy communications, shares Salesforce's innovation story and the company's commitment to stakeholder capitalism. In this GSG interview with her for our Changemaker Q&A, she addresses how brands are responding to the movements of today, the core values that drive her company's work, and how regularly sharing metrics with stakeholders ensures accountability in social justice and equity.
GSG's New Website!
New site, who dis? We are excited to debut our newly designed website from our in-house design team, The L@B. Check it out at globalstrategygroup.com.
Our new Navigator Survey is Out
The key takeaways: vaccinated & unvaccinated Americans hold divergent views on causes behind rising COVID cases. Vaccinated Americans blame the unvaccinated, misinformation, and conspiracy theories. The unvaccinated blame open borders, the media, and the CDC.
We're hiring!
GSG is hiring for a number of roles on our communications, public affairs, and research teams. Please take a look at our senior, mid-level, and junior roles. Our culture and values play an integral role in how we operate, and we work hard to bring passion, energy, and drive to everything we do. Join us!
Share The Goods!