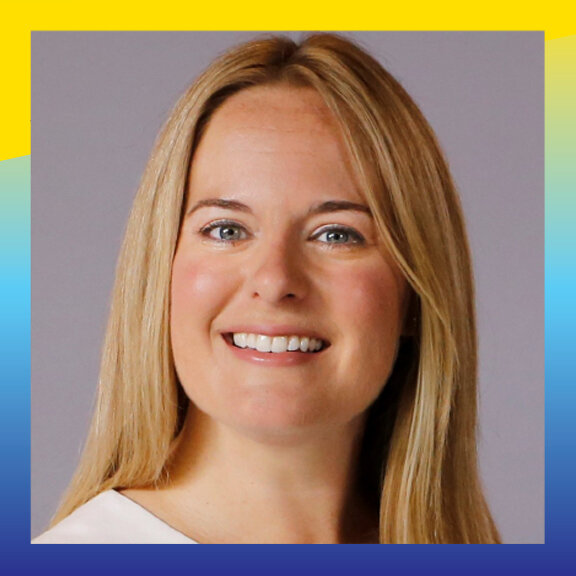 Margaret Taylor is the Public Affairs Director at Salesforce. She oversees policy communications for the Global Government Affairs team, sharing the Salesforce innovation story and the company's commitment to stakeholder capitalism.
Prior to joining Salesforce, Margaret was Director of Global Public Affairs at AT&T Services, Inc, and helped launch the AT&T Aspire EdTech Accelerator. Before moving to the Bay Area from Washington D.C., she held roles at DCI Group, Americans for Prosperity, and the Washington Legal Foundation.
A native Missourian, Margaret graduated from the George Washington University with degrees in political science and sociology. Margaret lives in San Francisco, CA.
In addition to the business of the business, companies are also being asked to think about how they are "showing up" and responding to the moments and the movements of today – from the COVID pandemic, to an expansive racial justice movement, to our highly politicized election environment. As you assess the landscape, how do you see big brands fitting in?
Big brands have a history of showing up for their employees. They've led by example by providing increased benefits and driving large scale change. They've advocated for policy changes at every level of government that have directly impacted the lives of many.
What we are seeing now is that companies are showing up for all their stakeholders, and they are being bolder about how they do so. But organizations need to be clear about what topics are priorities, how they will engage, and how they will measure impact. They must clearly communicate this to build trust so that their employees, customers, shareholders, and community members understand their actions. As a corporate public affairs professional, it is an exciting time, and I'm proud to be a part of Salesforce, one of the big brands that consistently engages in the conversations that are shaping our world, even when it isn't easy.
Are there any new considerations for Salesforce as a result of the changed political environment? If so, what issues will you focus on and how will you engage around those issues? Alternatively, are there issues that will become less of a focus as a result of the new political environment?
Salesforce is guided by our core values – trust, customer success, innovation, and equality. This is steady across geographic region, and with every administration and government. However, it would be naïve to say that the issues we focus on don't change at all as we see leadership changes at various levels of government.
For example, last year we created our Racial Equality & Justice Task Force which is comprised of four pillars, one being policy. Through this we have been very active on police reform and protecting voting rights, particularly at the state level, and are actively participating in the congressional conversations. Through this Task Force, we reached out to external experts to help us understand the landscape at the state and federal levels, and from there we created policy principles for each of the issues that we have shared. This has built trust with our stakeholders, allowed us to act concisely and swiftly, and to focus on areas where we can create meaningful impact. We have been pleased to see progress on the 1 Trillion Trees initiative over the past few years, one of the nature-based climate solutions we support. But we know that we may now have more support for some of our bolder initiatives and are putting more employee resource groups behind this work. You can learn about our sustainability policy priorities, in addition to our other policy priorities here.
When it comes to corporate engagement, how would you describe your company's core values? Why are those important? How do they drive/influence the work you do?
Guided by our values, we align all our work. It gives a framework, assures that we are aligned as a company – and that all our stakeholders have a clear understanding of what we are doing and why. We can clearly articulate why we are doing something based on the alignment with our core values.
How does your organization decide when to engage on social and political issues or current events? Is it a proactive approach; speak out when an issue matters to your leadership, shareholders, consumers, legislators? Or is it more reactive; get involved only when you are pulled onto the dance floor?
Like many organizations, we do our best to plan for state legislative sessions, US Congress, and Davos conversations in the fall prior. This provides us the opportunity to reflect on the previous year, including what worked, what didn't, and what we need to prioritize moving forward. But the Salesforce Government Affairs team values the collaboration we have with other teams, whether that be privacy or equality, and we rely on an open dialogue with them to ensure we are on track. We share our suggested plans with our internal partners and ask for their feedback – did we capture their needs? Did we consider all stakeholders that they represent? What additions should be made? We also communicate our activities to our employees via Slack and work to answer questions related to the work we are doing, and the issues we are not engaging on in an effort to be transparent.
All of this allows us to make responsible and impactful decisions about when we will engage on an issue. We tend to be proactive on our core issues. We consistently review topics that we aren't working on to see if we should change that decision. We try not to wait until the groundswell has forced action – we want to be a part of the initial drumbeat for our stakeholders.
Is there a business case for corporate engagement? How can corporate engagement help the bottom line?
There is absolutely a business case for corporate engagement. Salesforce was started with a vision for a different kind of company—to change the way the world does business and at the same time, improve the state of the world. It's in our company's DNA. It's especially important in times like these that stakeholder capitalism dictates our actions, and that business has an urgent responsibility to act.
We are only as successful as the community around us. When our schools are best helping our children, we see the talent pipeline grow. Climate change impacts the health and safety of each of us, disproportionately impacting the most vulnerable communities. When our workforce looks like the world around us, our products better represent society at large, and in turn better serve society at large. As our CEO Marc Benioff has said time and time again, we don't have to choose between doing well and doing good. Our returns speak for themselves, and we see value in being committed to stakeholder capitalism.
How do corporate leaders help ensure continued commitment to and engagement on issues like racial justice and equity, even when they don't dominate the news cycle?
You must have metrics and you must share them with your stakeholders. You must provide updates. I mentioned our Racial Equality and Justice Task Force. We have been so intentional with our work on the Task Force. We have a steering committee for the overall program and committees for each of our four pillars – People, Purchasing, Philanthropy, and Policy. We have shared with our employees and on our website our goals for each of these. Quarterly, we provide an update on our progress. This accountability keeps us on track and ensures that we all know there is a deadline we must meet. It also keeps the topics at the top of our employees' minds and ensures they are active participants in where we are going. They hold us accountable.
Is there an article/book/podcast/interview that you have seen that struck you as a particularly smart take on corporate engagement? Please share!
Why Marc Benioff's "Trailblazer" of course! I actually read it before I started at Salesforce, and it was one of the reasons I was thrilled to have the opportunity to join and build our public affairs capabilities. Commitment to change must start at the top, it must be authentic, and it must be inclusive. This book shares some great thoughts on this philosophy.