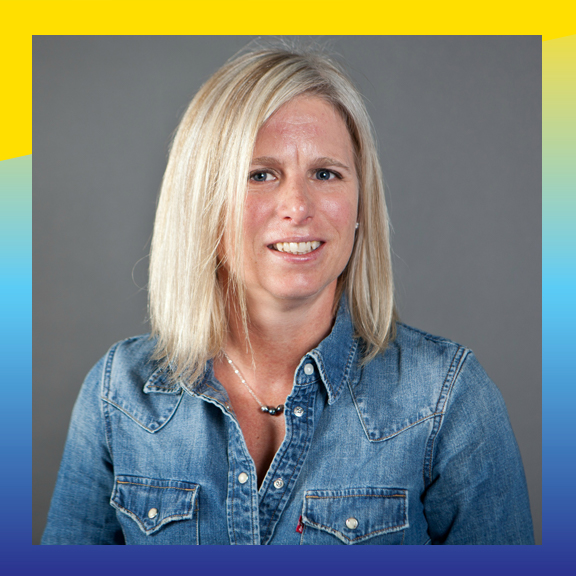 As Vice President of Public Affairs at Levi Strauss & Co. (LS&Co.), Anna Walker supports the company's business strategy and works to strengthen the company's reputation by shaping communications around external public policy and stakeholder initiatives.
Anna also leads LS&Co.'s community affairs program, developing strategy for community grants and employee giving and volunteerism programs globally. Anna is the chair of the board of the U.S. Fashion Industry Association and is a member of the Levi Strauss Foundation Board. She has a masters from Johns Hopkins University School of Advanced International Studies and bachelors of arts degrees from the University of California, Davis.
How do you/your organization decide when to engage on social and political issues or current events? Is it a proactive approach; speak out when an issue matters to your leadership, shareholders, consumers, legislators? Or is it more reactive; get involved only when you are pulled onto the dance floor?
LS&Co. has a long history of consistently weighing in and leading on issues of the day that matter. Sometimes that has meant taking unpopular positions and speaking up when others have stayed silent. For instance, LS&Co. was desegregating our factories in the south long before it was the law of the land, we developed comprehensive HIV/AIDS education programs and health services for our employees and their families before the disease was broadly understood, and we provided health care benefits to same-sex partners when no one else in our industry would. Just three years ago, our CEO Chip Bergh was one of the first business leaders to say enough is enough, we have to do something about gun violence in America.
Today, we continue to fight for the issues we've committed ourselves to because we believe that our business is only as strong as what we leave behind for the next generation. When you've been in business as long as LS&Co has, you realize that we all share a responsibility to its legacy. For us, that's always meant investing in and standing up for our employees and fighting for broader equality and opportunity for all. Of course, we can't take on every issue or fix every problem — even some where we personally feel very strongly — so we assess each potential engagement and ask ourselves questions like: Does engaging on this policy reflect our core values? Has LS&Co. already taken a leading role on this issue? And most importantly, can we make a real impact, directly or by inspiring others to join us? When we lead with our values, we've found ourselves on the right side of history time and time again.
Are there any new issues and considerations for your organization as a result of the changing political environment? If so, what issues will you focus on and how will you engage around those issues? Alternatively, are there issues that will become less of a focus as a result of the new political environment?
With the COVID-19 pandemic, the continued fight for racial justice, and the existential threats posed by the climate crisis, there have been few times in our company's 168-year history that we have seen our world in such tumult. There is a lot of work to do, and LS&Co. is proud of our ongoing efforts on issues ranging from climate advocacy and greening our operations to voter participation to gun violence prevention. The last year in particular has pushed us to sharpen our focus when it comes to advancing racial equity, both within the company and in our grantmaking and advocacy efforts.
It's in moments of crisis like this when the true character of a company shines through, and LS&Co. is committed to navigating this moment by continuing to do what we do best: staying true to our values and fighting for a better future for our business, our people, and the communities we touch. We are already emerging stronger from this crisis than before, and a renewed focus on racial justice is central to that effort.
How do we, as corporate leaders, help ensure corporations continue their commitment to and engagement on issues like racial justice and equity, even when they don't dominate the news cycle?
Accountability is critical. And that starts with holding ourselves accountable as leaders first and foremost. That means being humble about the work we have to do and diligent about getting results — even when no one is looking. Progress can't only happen under the spotlight, so at LS&Co. we're really focused on ensuring that we are following through on our commitments and driving real impact no matter what news is driving the day. But this work cannot happen alone or in a silo, so we hope to find partnership with others in the shared effort and responsibility to dismantle structural racism.
Is there a business case for corporate engagement? How can corporate engagement help the bottom line?
Absolutely. LS&Co.'s long history is proof that businesses thrive when they invest in the people around them and ensure they thrive too. This kind of approach is not only the right thing to do, but it's good for business, plain and simple. When we advocate for our values, we earn the respect of our communities and customers, bolster brand loyalty, and attract and retain top talent. We are a company that is never willing to sacrifice our long-term vision for short-term gains, because our future as a leading apparel company depends on our ability to take a long-term approach and address the important challenges that will impact our operations around the world. Whether it's water shortages in key sourcing countries due to rising temperatures or economic inequality here at home — these are concerns that directly impact our ability to grow and sustain the strength of the brand. Businesses invested in their own longevity and future must also invest in the future of those who will one day be its leaders, its customers, and its neighbors.