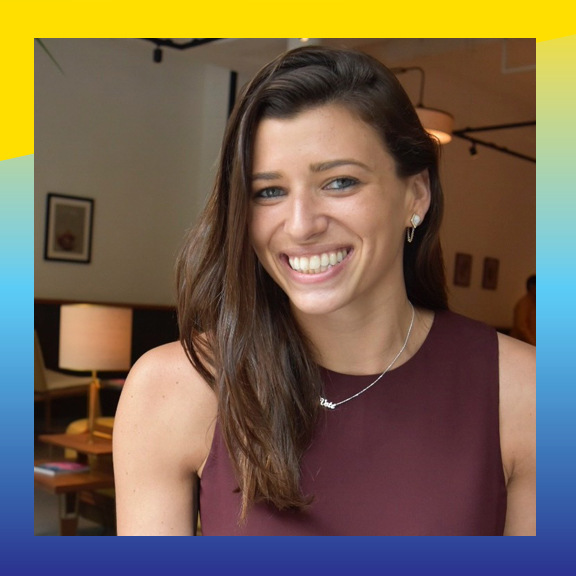 At Snap Inc. Sofia Gross oversees global government, political, and non-profit partnerships in Washington, D.C.
She is also a Public Affairs Officer in the United States Navy Reserve.
Most recently, Sofia led an initiative that helped over 1.3 million Snapchatters register to vote and was recognized as a Forbes 30 under 30 for Law & Policy.
Sofia completed the Technology and Democracy Fellowship at Harvard Kennedy School where she co-authored a case study on Civic Responsibility: The Power of Companies to Increase Voter Turnout. Sofia studied International Studies and Near Eastern Languages & Civilizations at The University of Chicago where she was also Captain of the Varsity Swimming & Diving Team. Sofia currently serves as a strategic outreach advisor to The University of Chicago Admissions Office and serves on the Board of Advisors for the Institute of Politics at UChicago. Sofia advises a number of civic organizations including Civic Alliance, 50×2026, Civic Responsibility Project, National Voter Registration Day, Vote Early Day, and TurboVote.
Some companies have engaged very publicly around the election, while others have hard and fast rules around no politics at work. How should companies be thinking about their role in elections?
We can't have a truly representative democracy until we increase voter turnout rates for everyone. Brands have such a huge opportunity to make sure this happens by sharing information and encouraging participation among their employees and consumers. Brands have built-in audiences, are trusted messengers, and can reach far beyond what traditional campaigns can.
In a democracy, there is nothing political about encouraging civic participation. Companies should understand that they each have a role to play when it comes to helping increase voter turnout. There is not a one-size-fits-all policy to corporate civic engagement. Whether it is providing clear communication and policies for employees to have paid time off to vote, encouraging your consumers who engage with your brand to make a plan to vote, or working with non-partisan civic organizations to help raise awareness around varying aspects of the voter experience, every company has a role to play to promote nonpartisan civic engagement.
Every brand should think about the unique audiences they have the ability to reach as it relates to all demographics. At Snap, we recognize the role we have to play in helping first-time voters. At a minimum, you should mark the calendar each year to celebrate National Voter Registration Day, Vote Early Day, and Election Day — whether that's with a day off, an in-office activation, an email to employees, or a social media post. I also recommend becoming a member company of the Civic Alliance, so you can be in a community with other companies doing civic responsibility programming. You can learn from the creative ways others are engaging employees and consumers.
How do we, as corporate leaders, help ensure corporations continue their commitment to and engagement on issues like racial justice and equity, even when they don't dominate the news cycle?
It is about building these issues into the foundation of your social impact approach. For example, here at Snap our approach to civic engagement is "always on." That's why we help users register to vote on their 18th Birthday. Every cycle we learn from our community of Snapchatters about what they find helpful, what worked well, and areas where we need to improve. We use traditional philosophies around community organizing and apply them to the Snapchat ecosystem — for example, you can't just ask somebody to register to vote or make a plan to vote once.  
We have been amazed by how much Snapchatters have used these tools — which has only inspired us to continue to innovate and invest more in this space! We will follow our three key phases of voter registration, voter education, and voter participation by partnering with our civic partners to provide users with resources they need to show up.
Our work toward a more equitable democracy continues and there is so much work to do as it relates to the flywheel of civic engagement. We know that if we build these civic tools in ways that encourage young people to actually use them, they will make their voice heard on issues of equality and racial justice through the power of our democracy. 
Did your organization weigh in on the election – internally, externally? If yes, what did you do and why was that important for your organization? 
At Snap, we believe there is no more powerful form of self-expression than civic engagement. For the 2020 election and all elections going forward, we built new native-to-mobile voter registration tools that live directly within our app. We have massive reach with Gen-Z users who are old enough to vote — in fact, of the 100 million users we reach in the U.S., 80% are 18+. Most of our civic processes have not been built for a mobile-first generation, and that's what we are setting out to change by investing in these native-to-mobile civic tools.
At the start of this year, we started a new initiative that gives Snapchatters a nudge to register to vote when they turn 18. We recognize that our unique reach gives us an opportunity to help young people develop civic engagement habits as soon as they become eligible to vote. In fact, research shows that once you begin voting you become a habitual voter and we hope to inspire this next generation of Americans to do just that. We do this work because we know Snapchatters want it. During the 2018 Midterms, we helped over 425,000 users register to vote, and 57% of them showed up — that is 20% higher than the voter turnout average for that age demographic.
To date, these efforts have helped over 1.125 million Snapchatters register to vote — the vast majority at the end of 2020. Based on data from TurboVote, more than half of these Snapchatters are first-time voters, and close to two-thirds are 18-24. 
We also know that friend to friend interactions matter — 4.75 million of Snapchatters who are 18+ have seen our voter engagement tools because of interactions with their friends, and 3 million of these users are 18-24. Since Snapchat is a platform for close friends, we know how much further those civic tasks can go when they come from a person you know and trust.
We are thrilled with the excitement and engagement we saw during the 2020 Election with our civic tools, but we have a lot more work to do as it relates to helping young people show up. The work toward a more equitable democracy continues! 
Is there a business case for corporate engagement? How can corporate engagement help the bottom line?
I co-authored a case study at Harvard Kennedy School on how companies can help increase voter turnout which found that companies encouraging voter participation can be not only good for democracy, but also good for business. The business benefits described by case study participants included meeting consumer expectations for engagement in social and political issues, raising brand awareness with new audiences, and increasing employee satisfaction.
We are facing a critical moment in our society and businesses must recognize the role they have in building a more equitable society through their recruitment efforts, employee engagement, and consumer relationships. Doing good is good for business — employees want to work somewhere they are proud to work for and consumers want to purchase from brands who uphold their values.
We have seen many corporations stepping out on social and political issues, even if they previously chose to sit out. What changed? What is driving more brands to engage on social and political issues and current events?
What has been so critical in recent years is that brands recognize that they all have a role to play — no matter the scale and size. During the 2020 Election, we saw small businesses make a difference by volunteering their workforce to serve as poll workers ahead of Election Day, and we saw national brands leverage their workforce, audience, and consumers to ensure civic participation. The type of engagement and scale of engagement was diverse, accurately reflecting the business community in America. The critical part has been the normalization of corporate civic engagement, which has inspired more brands to recognize their responsibility to play a larger role in these critical moments because their employees and consumers want them to.