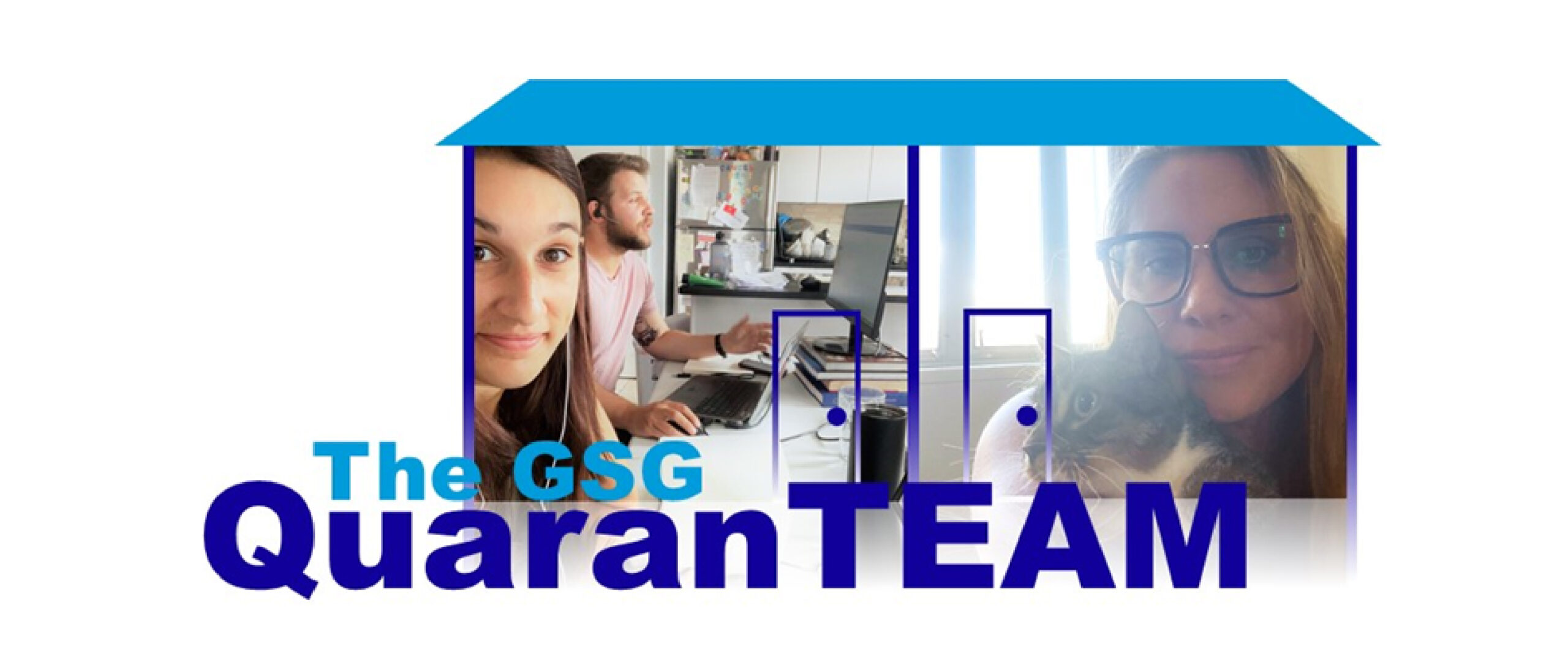 Hilary Lyons
Manager, Communications & Public Affairs
Isolating in Bed-Stuy, Brooklyn
What has been the biggest challenge, surprise, or learning since changing to a remote work environment?
Aside from the general anxiety and overall apocalyptic vibes…
The biggest challenge is probably the literal space. My roommate, Brenden, and I (and those of you who have heard me complain about this can tune out here) put up a big folding table in the middle of the living room every day and use it as a desk. It still kind of feels like I'm sitting next to Will in the office! We shift furniture around a lot on a daily basis. We usually flip the couch on its side at night to workout. I guess I'm surprised by how much we've needed to move furniture!
I think another challenge is the ~social~ distance. Everyone knows I'm always down for a post-work hang and I just miss the camaraderie that was built over a few beers with coworkers (who are also friends!).
From a public affairs perspective, what/who has impressed you most in their coronavirus management?
All the mutual aid funds and operations in Brooklyn and across the city have really impressed me (DONATE: Bed-Stuy Strong). So many neighbors just stood up and took action when it was needed most. There's a candidate named Sandy Nurse (DONATE!) who's running for City Council. Unfortunately, she was removed from the ballot in the last special election, but she's been running an emergency food operation ever since. A group I'm affiliated with called 21 in 21 endorsed her before she was removed from the ballot, so hoping that she get's a second chance!
Most fun discovery about your new "coworkers"? (partners, children, pets, etc.)
Despite our diverging interests in pop culture, my roommate and I actually have very similar taste in comedy shows. He's not that into Normal People or Gilmore Girls, and I'm really not that into Arrow or Flash, but we binged Brooklyn 99 in early quarantine, followed by Superstore, and we just finished up The Great.
Have you discovered any hidden talents or taken up any new hobbies?
I'm slowly, slowly, doing a paint-by-numbers kit because I have no artistic ability but I can count.
Oh, and I bought a bike. I'm a bike person now.
Christina Kanmaz
Manager, Communications & Public Affairs
Isolating in DuPont Circle with my husband and cat, Roosevelt
What has been the biggest challenge, surprise, or learning since changing to a remote work environment?
I started at GSG in the middle of the quarantine so the biggest challenge for me has been joining a new team without being able to meet any of my co-workers in person. I really miss the face to face connections and can't wait to finally bond with the DC team over lunch or at a happy hour.
How do you differentiate your "work" vs "personal" time?
This is especially difficult in a small apartment, where I don't have a separate home office. I try to spend most of my personal time outside and get in a walk in the morning before work. This has been a challenge with the recent heatwave!
Which remote working adjustments do you hope will translate back to the office?
Literally nothing. I actually can't wait to turn in my sweatpants for high heels and get back to a sense of normalcy. That's probably not a popular answer, but I am OVER this pandemic!
What is the first thing you plan to do post-isolation?
I want to travel to Europe, if they'll let Americans in…
Have you discovered any hidden talents or taken up any new hobbies?
I've been doing a lot of puzzles and trying to stop my cat from destroying my progress every time I turn my back. I've also been listening to the Russian classics on Audible. I've made my way through most of Tolstoy and Dostoevsky, which I never managed to do before quarantine.