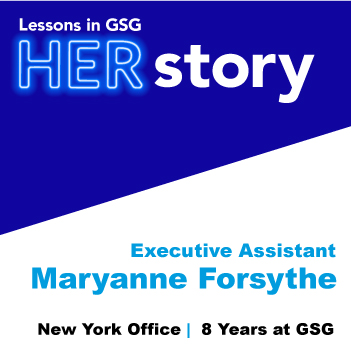 Professional Life and Accomplishments
In 100 words or less, tell us about your career path.
I went from political campaign work, to fundraising and community relations, to becoming a communications professional in the National Office of the ACLU. Then I became a litigator, and next a New York City Government Policy Director and Deputy General Counsel. Now I draw on all that experience in my current role to provide the best client services I can in Communications and Public Affairs every day.
What would your co-workers be surprised to know about you?
I was a litigator in the South Bronx at one time who worked on behalf of very low-income clients. I had to develop my street cred in the small legal community that practiced in that courthouse as a formidable opponent, even though I am a woman of small stature who was fresh out of law school at the time—and I did! A former opposing counsel who now works at the D.A.'s office stopped me on the train recently to tell me what a strong opponent I was in a case I argued (and won!) against his client years ago.
What is the best career advice you've ever received?
"Give 100%." Words to live by.
Who are your female mentors, role models, favorite trail blazers, or heroes?
Both of my grandmothers were forces of nature who instilled in me that every woman should have a profession.
More about Vicky
What do you do with 30m of free time?
If my free time, you can find me in a pilates class or walking in NYC's parks.
If you could learn to do one thing, what would it be?
I'd like to continue to improve my fluency in the foreign languages I speak. I enjoy speaking French and Spanish.
Name a song on your playlist that no one would believe is there.
I have a bizarre affinity for a terrible '90s Will Smith song that reminds me of a fun era.