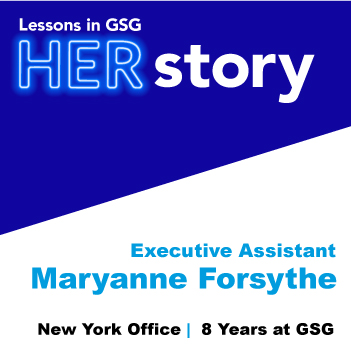 Professional Life and Accomplishments
In 100 words or less, tell us about your career path.
Studied communications and Spanish at UConn. My first job was with a cross-cultural and language training company that trained executives and their families who were relocating abroad. From there, I went to work at two different multicultural advertising agencies. I learned a lot about digital and social media, but wanted to expand my skills, which led me to GSG. Emily is an amazing boss and I feel lucky to work with such a smart team every day.
What is your favorite recent GSG campaign you worked on?
A highlight in my time at GSG was the Kathy Carter/US Soccer campaign. While it didn't result in a win, it was such a rewarding experience and unlike anything else I've ever worked on. Kathy is an inspiring leader and we had a great GSG team working on the project. It was a ton of hard work, but we were all in it together.
Who are your female mentors, role models, favorite trail blazers, or heroes?
All of the amazing women in my life, including my mom, aunts, and close friends.
What is the best piece of advice you would give (or have already given) to women starting out in our industry?
If you see something you want to work on, volunteer to do anything for it, no matter how small the task. All you have to do is get your foot in the door because more often than not, the person who volunteered to do the background research for the project ends up making their way into the pitch/meeting and has a seat and voice at the table.
More about Lauren
When you were a kid, what did you want to be when you grew up?
A UConn Basketball Player. I was obsessed with the women's team and followed them from UConn to the ABL (the basketball league no one has heard of) to the WNBA. Jen Rizzotti was my idol growing up.
Who is your dream dinner-date guest? (dead or alive)
Oprah or Audrey Hepburn
Name a song on your playlist that no one would believe is there.
You'll Be Mine (Party Time) – Gloria Estefan