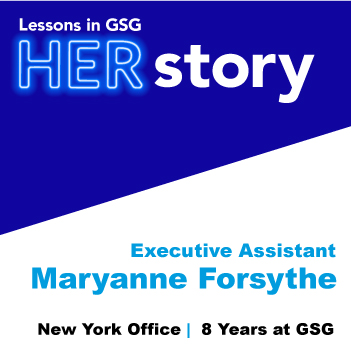 Professional Life and Accomplishments
Who are your female mentors, role models, favorite trail blazers, or heroes?
My biggest supporter and role model will always be my mom. She has been instrumental in all aspects of my life. Her kindness, patience, and strong faith are traits I admire. Although she had no formal education and a rough childhood, she made education very important growing up, encouraging me to always continue to learn and better myself, while also instilling in my brother and me to be grateful for the comforts we have and to help those less fortunate.
What would your co-workers be surprised to know about you?
I was an avid runner – ran a few half marathons – my favorite was the Shape Women's Half Marathon in NYC. Sadly, my knees couldn't take the sport any longer. ☹
What is the best career advice you've ever received?
My father always said to me never be afraid to fail. Learn from your mistakes, get up the next day, and start again. And always write things down so you don't forget!
Who is a woman everyone should know about?
Katharine Graham. She was a woman thrown into running her family business after her husband's suicide at a time when most women did not work outside the house. Without any experience, she steered The Washington Post through a public offering, "the Pentagon papers," and Watergate. One of my favorite quotes from her is, "To love what you do and feel that it matters, how could anything be more fun?" She stands as an example that given any tragedy anything is possible.
More about Angela
If you could learn to do one thing, what would it be?
Learn a second language
What do you do with 30m of free time?
Watch Law and Order: Special Victims Unit