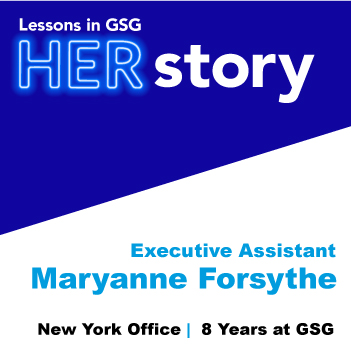 Professional Life and Accomplishments
In 100 words or less, tell us about your career path.
I earned my BFA in 2007 but everything I did outside of school was related to PR and events. Pumped to move to NYC, I landed in fashion PR and packed myself up for the wild world of Astoria. It was a short lived success bc 2008 and I was laid off—womp womp. I returned to the working world at photo agency Stockland Martel (where it was later lovingly admitted to me that I was only brought in to interview was bc I had fencing on my resume), and then moved on to CAA where I had asst stints in intl music touring, reality tv, commercial endorsements, and brand partnerships. After realizing I did not want to be an agent, it was brought to my attention that being an EA was a real thing. So why not! I moved to American Express as the EA to the CMO. Unfortunately he retired, so I tried the high stakes world of investment banking and quickly learned they didn't like sequins or bright lipstick as much as I do. When I read the description for EA to Jefrey at GSG, I decided I was going to get it and here I am.
*Note: 100 words is tough. That's 206 bc my shorter version was boring.
Who are your female mentors, role models, favorite trail blazers, or heroes?
My college fencing coach, Dr. Nikki Franke. Nikki is a two-time Olympian and was competing on an intl level while starting the Temple fencing program, earning post-grad degrees, and starting a family. She taught me to be a smart competitor and a gracious loser; how to focus, prioritize, and balance life, school, and everything in between; and was my first non-familial example of the kind of person I want to become. Nikki is a multiple HoF inductee and co-founder of the Black Women in Sports Foundation. My favorite of her catch phrases is, "Respect everyone, fear no one."
What is the best career advice you've ever received AND What is the best piece of advice you would give?
1. You can't be afraid to make decisions. It can be the most paralyzing fear, but it has to be done. And if you don't like the one you've made, take a breath, regroup, and make another.
2. Don't think, know. I had a boss tell this to me once and it stuck. When you're handling sensitive details and specifics, it's better to acknowledge when you don't have an answer and go find it rather than to provide a guess or poor information.
What is the biggest career hurdle you have overcome?
There is professional bias towards the role of being someone's assistant—I've experienced it on more than one occasion. The assumption that someone is an asst because they aren't smart enough to be anything else or that an asst's only value is putting meetings in the calendar, and it can come from a person you just met or the colleague that you interact with every day. It has taken me years (and the occasional bathroom cry) to develop a thicker skin and assuredness in my expertise and skills.
But the reward is worth it. I have gotten to work in tandem with executives who are the best in their field and learn how to do business—and that is whatever I want to and can make of it.
More about Maryanne
What do you do with 30m of free time?
If I'm out and about: find ice cream, impulse buy a plant, take a quick lap in MoMA or The Whitney, look for new reads in BN or The Strand, wander and window shop
If I'm home: watch an episode of Parks and Rec or Friends, knit, video call my niece or regular call one of my sisters
Name a song on your playlist that no one would believe is there.
I listen to a lot of punk music. My first concert was Bad Religion and Blink 182, most recent were Against Me! and Andrew McMahon. Nowadays I am happy to watch from the back and leave the moshing to the kids.
Who would play you in a movie/tv show?
I'd like to be played by Brie Larson, and my sisters would be played by Liv Tyler, Gillian Jacobs, and Jennifer Lawrence. With cameos by Busy Philipps as Liana, Donald Faison as Philip, and Jefrey as himself.
What is your favorite TED talk, podcast, or book?
The TED talk by Danielle Feinberg, Director of Photography at Pixar, and anything Kid President.
Recent books I've read include The Incendiaries, The Great Believers, and A Gentleman in Moscow, and I'm currently reading Picasso and The Painting that Shocked the World. I tried to start a book club with my sisters, but they called it a book-tatorship and there was a coup.
When you were a kid, what did you want to be when you grew up?
A fashion designer. That was later replaced by medical illustrator and then publicist. But even as a "grown up" I also have wanted to be a photo editor, tattoo artist, sports agent, floral designer, gallery director, and children's book author.