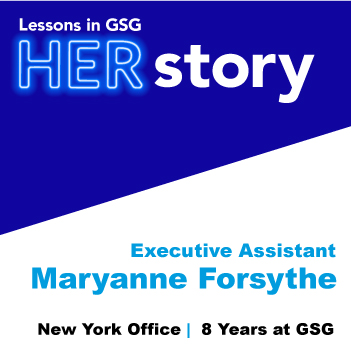 Professional Life and Accomplishments
In 100 words or less, tell us about your career path.
Moved to DC after grad school and met up with an old friend whose boyfriend helped me get my first job in polling. I'm officiating their wedding next year! My old boss introduced me to Nick and Jef, and the rest is history.
What would your co-workers be surprised to know about you?
I love telling this to anyone who will listen so people may know this already, but I worked on a farm every summer through high school and college. I learned how to drive a tractor before I learned how to drive a car! I still get weird satisfaction from doing manual labor, it's the hardest and best kind of work.
What is the best career advice you've ever received?
Make sure you're taking work off your bosses and supervisors' desks, not adding it on. This is easier said than done but a great rule to live by.
What is the biggest career hurdle you have overcome?
I had a pretty bad stutter as a kid and when I started presenting more at GSG it came back. It sucked, but over time it got better as I grew more confident. I still get tripped up on my words sometimes, even when I try to explain things to people over the phone, but I'm told people notice it less than I think they do, so I just carry on carrying on!
More about Maura
What is your favorite TED talk, podcast, or book?
I'm a total book nerd so it's impossible to choose just one… I'm currently reading Little Women by Louisa May Alcott and listening to The Water Dancer by Ta-Nehisi Coates on audiobook. It's narrated by Joe Morton and he sings!
When you were a kid, what did you want to be when you grew up?
An inventor! I used to make up weird (and super janky) contraptions when I was a kid including this weird thing involving a coat hanger and a plastic bag to keep my cast dry when I broke my wrist in elementary school.
Who is your dream dinner-date guest? (dead or alive)
Martin Van Buren, obviously…