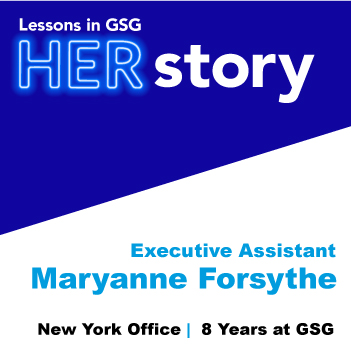 Professional Life and Accomplishments
Who are your female mentors, role models, favorite trail blazers, or heroes?
I know a lot of people probably say this, but definitely my mom. She went back to school get her Master's in Social Work (when she already had an MBA) when I was 11. She's used that degree to help countless students in low-income communities, all while taking care of me while my dad traveled very frequently.
What accomplishment are you most proud of OR what has been your biggest success to date?
At my last job, I created the new matching formula that New York uses for the city's Matching Funds Program. It passed as a ballot proposal with over 70% of the vote. It was really exciting to see voters react so positively to my proposal, particularly after months of trial and error.
What is the best piece of advice you would give (or have already given) to women starting out in our industry?
You can't be afraid to make your opinion known. I have struggled a lot with speaking up because I am so young, but I have found that offering an opinion or suggestion can really go a long way in establishing credibility and gaining the trust of your colleagues and superiors.
What is the best career advice you've ever received?
Never think a project is beneath you. It's something my first boss told me when she asked me to take on a truly boring task to help out another co-worker. She was so genuinely grateful for my help, and that always stuck with me.
More about Kati
If you could learn to do one thing, what would it be?
I would love to learn to cook. My Italian mother is often horrified by my lack of expertise in the kitchen, particularly with very simple recipes.
What do you do with 30m of free time?
Watch an episode of terrible reality TV. Work is stressful, watching The Bachelor is decidedly not (…usually!)