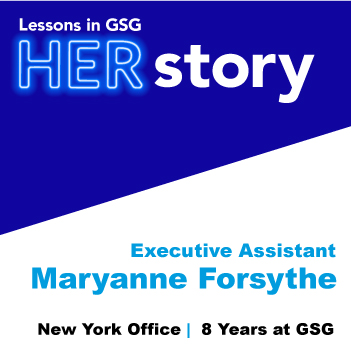 Professional Life and Accomplishments
In 100 words or less, tell us about your career path.
Straight and narrow: I started as a temp at Zurich Insurance Company in 2001 and left in 2010 to start working at GSG! When I came to GSG there were 33 employees, which was a bit of shift from Zurich's 50k worldwide. And of course, the industry and people I supported were so different, but I was ready for the change. Its been a very rewarding few years – we do great work here.
Who are your female mentors, role models, favorite trail blazers, or heroes?
Anna Wintour is Everything. British, fierce, loyal, and doesn't take sh*t from people.
I mean how can I not mention my own mother? Di-zee has always been the hardest worker I know, and she did it with 4 kids. How do working mothers do it?? It blows my mind. Shout out to all the GSG working moms!
If money/client were no object, what is your dream campaign?
Anything to support animals and stopping animal cruelty.
Who is a woman everyone should know about?
Alyssa Mastromonaco
More about Liana
If you could learn to do one thing, what would it be?
Learn to speak another language fluently.
What do you do with 30m of free time?
I should be learning that language, but I would be watching The Office or napping.
Who would play you in a movie/tv show?
Dream: Kate Winslet. Reality: Rebel Wilson.