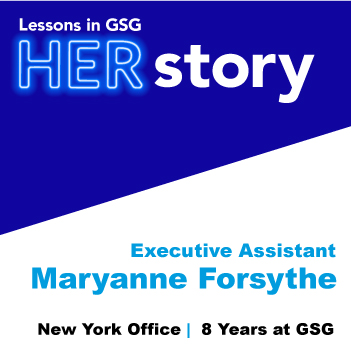 Professional Life and Accomplishments
Who are your female mentors, role models, favorite trail blazers, or heroes?
Cheesy answer – but my Mom is my female role model. She was a successful career woman who raised two daughters, while always maintaining a very positive attitude. A positive, can-do attitude is so important to being successful at work (and in life!). If you aren't actively focused on the good, you will naturally focus on the bad. Growing up, we are so often given the advice to "follow your passion" and "love your work," when in reality it is your perspective on your work, not the work itself that often dictates happiness.
What is the best career advice you've ever received?
Your job is to make your "manager's" life easier. (I put manager in quotes because it's not just about the person you report to, but any form of a project manager/lead.)
What is the best piece of advice you would give (or have already given) to women starting out in our industry?
Avoid "shutting doors." Essentially, always try to keep as many options open as possible, both in terms of career path as well as professional relationships. It is a small world – you never know when you will be working with someone again.
What would your co-workers be surprised to know about you?
I lived on a remote island off the coast of Australia for a month with no running water or electricity – sleeping in a hammock, spear fishing, and feeding sharks.
More about Michelle
What do you do with 30m of free time?
Conduct research on our travels. I spend way too much time researching hotels, restaurants, activities, and hiking trails. Even if we are just going to Colorado!
What is your favorite TED talk, podcast, or book?
I LOVE historical fiction. A few of my favorites are Beneath the Scarlet Sky, The Bronze Horseman, and Shantaram (thank you Marjorie for the rec!).
If you prefer non-fiction, I recommend Educated, Hillbilly Elegy, and The Sound of Gravel.