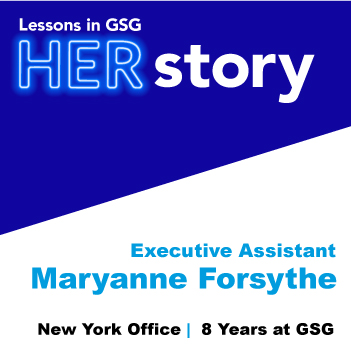 Professional Life and Accomplishments
What would your co-workers be surprised to know about you?
I often get 360 feedback about how "cool, calm, and collected" I am (which I love!), but I also struggle with anxiety.
What accomplishment are you most proud of OR what has been your biggest success to date?
The single most memorable experience of my career was being in Grant Park, a mere 20 feet from the stage, when Barack Obama gave his victory speech on November 4, 2008. I am proud to have played a role in electing him as our President and I still get chills thinking about that night. Day in and day out, I am proud of the digital team that we've built at GSG and the work that we do. Luke, Lauren, and Hilary make me excited to come to work every day.
What is the best piece of advice you would give (or have already given) to women starting out in our industry?
Listen, ask questions, and be kind to yourself and your colleagues. You and your peers today are the leaders of the future.
What is the best career advice you've ever received?
Always assume positive intent.
More about Emily
What do you do with 30m of free time?
Something nice for myself – a manicure, some yoga, half an episode of a show on Bravo.
Who would play you in a movie/tv show?
When I was younger people always said I looked like Katie Holmes. Never quite saw that, but I'll take it. Go is one of my all-time favorite movies.
When you were a kid, what did you want to be when you grew up?
A teacher