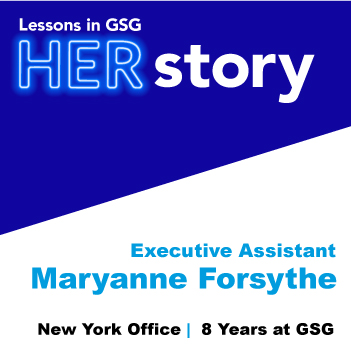 Professional Life and Accomplishments
In 100 words or less, tell us about your career arc.
I moved to NYC to work in editorial design in 2015, then got caught up in layoffs at the height of the recession. That lead me to a position at Jonathan Adler HQ. I eventually left insanely fun Jonathan Adler to help grow a creative team at a global consumer research company. That job gave me unique business experience – I learned how to design with data, build a team as an intrapreneur, develop designers, achieve recognition in a global company, and navigate internal global politics.
Who are your female mentors, role models, favorite trail blazers, or heroes?
Cindy Gallop, for women in advertising and the creative industry. As of last year, only 12% of industry Creative Directors were female – in 2017 it was even fewer, 3%. The hugely uneven ratio of male to female CDs leads to advertising that speaks largely to male audiences, or tends to reduce female audiences to unappealing stereotypes. But women influence something like 83% of all consumer spending in the United States, so it should be extremely important to the industry that a balanced ratio is achieved to speak to this key audience, as well as that we're making sure we're not only elevating white women. Cindy Gallop has been a trailblazing, often contentious, and leading voice in this fight.
What accomplishment are you most proud of?
A few years ago, I worked at a consumer research company within a major global holding company to a lot of famous creative agencies. I went there to help introduce creativity into an old-guard industry that found itself needing to compete with the Googles of the world. It was a tough job but by the end of my years there my boss and I had built a scrappy creative team of five designers, and had earned global recognition across our company, our parent company, and our sister companies.
What is the best career advice you've ever received?
To focus on the big picture, and not let the little things bother me. Those little things are just like tiny stones pinging off my shoulder — they're annoying but they don't do any damage. Always better to keep your focus on the things that matter most, and the way forward, and not let the little things distract you.
More about Alyssa
If you could learn to do one thing, what would it be?
Believe it or not, develop a conservatory (greenhouse) and/or research and identify various genus and species of plants — I have a big interest in botany and horticulture. I even have some favorite plant species, and I grow a bunch of them in my apartment!
When you were a kid, what did you want to be when you grew up?
Sort of along the same lines as the answer above, I've always had an interest in the life sciences since I was a little kid. I was always sort of a free spirit/creative kid — definitely an artist, and everyone had me pegged as becoming one from a very young age, but I wanted to be a marine biologist for a long time (I wanted to study and work with sharks and dolphins).
Name a song on your playlist that no one would believe is there.
Rock for Light by Bad Brains — actually, the whole album.