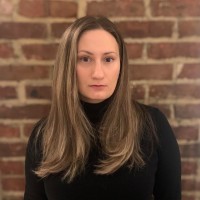 Tina Johnson
Administrative Assistant, Research
Pronouns: She/Her/Hers
Tina is a New Jersey native and spent almost two decades living in 4 out of the 5 boroughs of New York City before re-settling in New Jersey. Tina has built a 20-year career as an Administrative Professional across various industries. She works at GSG as an administrative support to five partners which keeps her engaged with all aspects of the company.
Prior to joining GSG, Tina worked as an Executive Assistant and Office Manager at Seabury Maritime, supporting the Managing Director of Global Advisory. Over the course of her career Tina has been fortunate to work with diverse groups of people and businesses, including Fortune 500 companies, independently owned art warehouses, and investment banks. She studied English Language and Literature in addition to Professional Writing Studies at Kean University and is an advocate for lifelong learning.
In her free time, Tina enjoys attending the New York City Ballet and American Ballet Theater performances, hoarding books, thrifting for treasures, and managing her online vintage clothing store.